Skiing Knees: Part Two
Skiing with injured knees is common. The sport is so engaging that the pain or instability of injured or arthritic knees is just not enough to stop a skier from sliding down the mountain. Here are few updates about skiing with injured knees.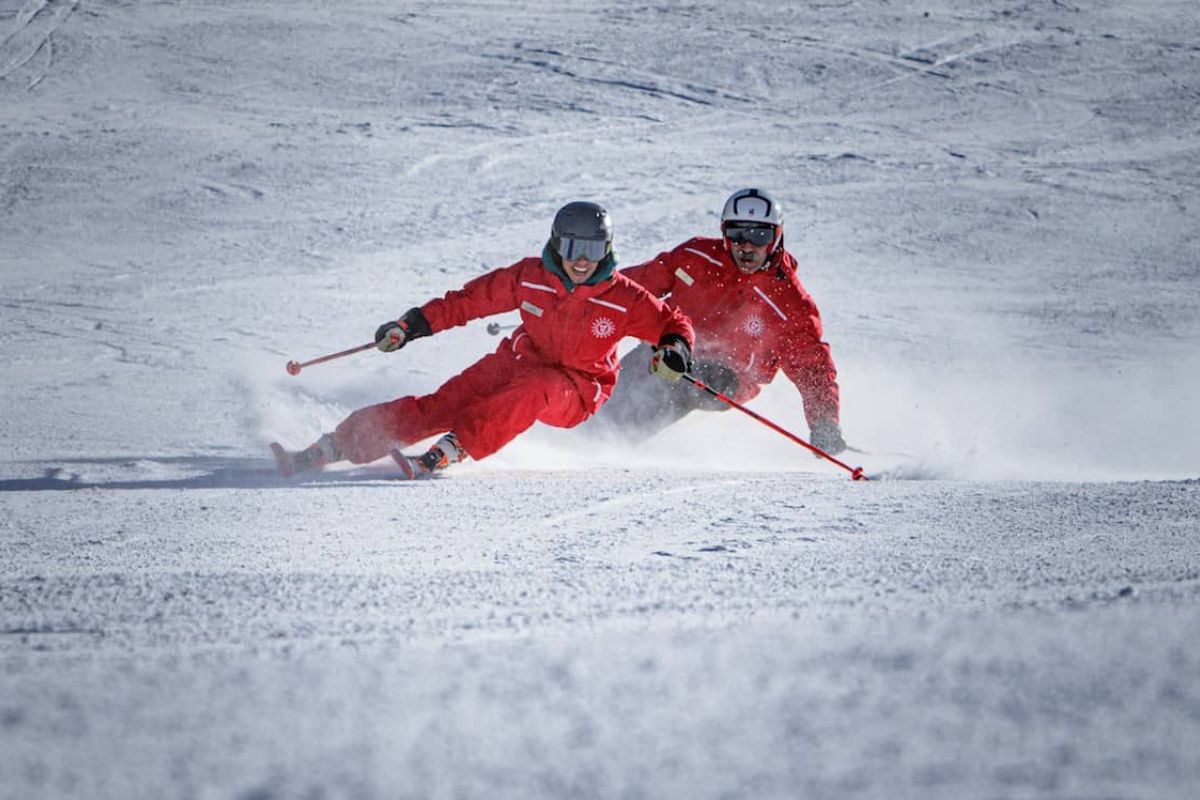 Pictured (in back): Injection study, meniscus replacement, and shoulder reconstruction patient Mark Miller back to top-level skiing. 
---
Instability: Torn ACLs and stretched ligaments, while best repaired early, are often tolerated by many athletes. The ligaments are not necessarily crucial for skiing. Preseason muscle strengthening combined with the use of knee sleeves to keep the knee warm, and sports braces to provide some support, are often enough to permit skiing. The only activities prevented by these instabilities are racing, mogul skiing, or jumping off cliffs. While the injury rate to the other structures in the knee (such as the meniscus) is higher with chronic instabilities, in the short run the ski season can be saved.
Arthritis: Many an arthritic knee steps into bindings. Warming up before skiing with a hot tub or hot shower and stretching—combined with the limited use of anti-inflammatory medicines—works pretty well. Today the injections of cocktails of lubricating hyaluronic acid plus growth factors from the blood (PRP) and other sources have been stunningly effective at decreasing inflammation and pain in arthritic knees. These cocktails have replaced cortisone, which damages the associated tissues. 
Biologic knee replacement, with the substitution of donor meniscus cartilage and ligaments, is returning more and more people to skiing with natural tissues. Robotically implanted partial and total knees (preferably without cement) are more lasting solutions for arthritic knees presenting bone-on-bone x-ray findings. We don't limit sports activities for patients who have taken advantage of these novel solutions.
Patella instability and dislocations: Some people are born with kneecaps that slide off to the side, which can be disabling. Often the bone is deformed, and the muscles and tendons stretched out. While there are many causes for this problem, repair involves reconstruction with a new ligament from the kneecap to the femur, occasionally moving the insertion site of the patella tendon—or in the case of severe arthritis, resurfacing the kneecap and the femoral groove (trochlea).
Bindings: Trapping the foot onto the ski is the major reason for the destruction of so many knees. Fortunately, there has been some progress in ski binding design. The most important advance is new heel pieces that release in multiple directions rather than just horizontally and vertically. Once this feature becomes widespread the injury rate will decline. 
Knees were not designed for skiing. If people really understood the injury rate and cost, they might not ski at all. Yet we who treat these injuries every day still love to ski…Is there a problem here?
---
Here's How We've Helped Skiers Back to the Slopes with our Robotic Knee Replacement Program
Or hear the remarkable story of a passionate, lifetime skier Brian who extended his skiing career by decades, despite numerous injuries, by making smart surgical choices for his knee. 
---
Experiencing knee pain that's restricting skiing? Use our Knee Pain Symptom Checker to learn more about your injury and our biologic solutions to repair skiers' knees.