Robotic Partial Knee Replacement
Knees do not wear out evenly. Sometimes one part of the knee is perfectly healthy while another part is irreversibly damaged. So why replace what isn't broken?
Often, we find that patients have been told they need a total knee replacement when they could in fact benefit from a less invasive procedure.
Book an Appointment
Live in the San Francisco Bay Area?
Preserving Healthy Tissue for a More Natural-Feeling Knee
Today, with robotic assistance, we can perform partial knee replacements that resurface each compartment of the knee independently (as unicompartmental or unicondylar replacement) or in combination (as a bi-compartmental knee replacement). Unlike a total knee replacement that replaces the entire knee joint, and may unnecessarily remove healthy parts of your knee, a partial knee replacement preserves your healthy tissue and replaces only the damaged areas. Knees with partial replacements feel more normal than those that require full replacements. This is because the geometry of the knee remains intact and the ligaments that naturally guide the knee are left untouched.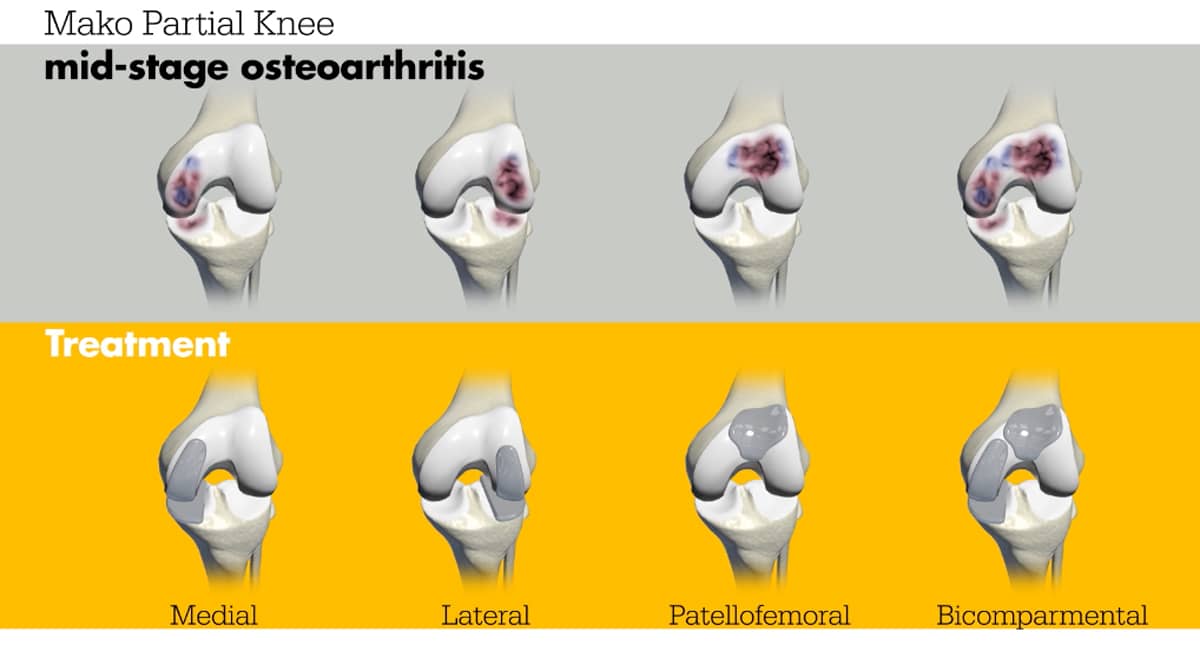 Benefits to Partial Knee Replacement at the Robotic Joint Center 
To achieve the accuracy required to successfully treat patients with a partial knee replacement, Dr. Stone uses the Stryker MAKO Robotic-Arm Assisted Orthopaedic System. In an outpatient procedure, the MAKO robotic arm—programmed to follow a computerized 3-D model of the patient's knee—is guided by Dr. Stone to remove only the damaged tissue from the joint and place the partial implant with exquisite precision. This minimally invasive technique preserves all the patient's ligaments and produces a strong, natural-feeling knee that provides rapid pain relief and a return to an active lifestyle. Below are some of the benefits of a robotic-assisted partial knee replacement:
Unique Partial Knee Replacement benefits:
All 4 stabilizing ligaments remain intact (ACL, PCL, MCL, LCL)
Healthy articular cartilage left intact 
A unicompartmental partial replacement may be expanded into a bi-compartmental partial or total knee replacement later in life
All robotic surgery at The Stone Clinic: 
Personalized surgical plan
Extremely high accuracy of anatomical placement1
A more natural knee motion
Quick recovery2,3
No muscles are cut, less tissue/bone removal & scarring
Less pain4,5,6 & meds
Outpatient procedure with no overnight hospital stay required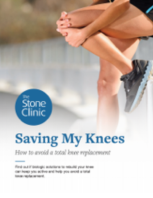 Download a Guide to our Knee-Saving Procedures
Explore all your options. Learn about procedures that can help you return to sports & delay or avoid an artificial knee replacement.
Our Robotic Partial Knee Replacement Patient Stories
Hear directly from patients who've undergone our robotic joint replacement program to safely return to their favorite activities. With world-class surgery and dedication to the specialized StoneFit rehab program, these patients provide proof and inspiration of what life after knee replacement can be. 
Watch More Knee Replacement Stories
Book an Appointment
Live in the San Francisco Bay Area?
Partial Knee Replacement Recovery Timeframe
Below is an estimated timeline for notable recovery milestones after partial knee replacement surgery. All times are to be considered approximate, with each patient's actual progression based upon their clinical presentation. Additionally, these estimates are for patients having their joint replaced by Dr. Stone using the Stryker MAKO Robotic-Arm Assisted Orthopaedic System. Recovery times may be longer with other forms of partial knee replacement. You may learn more about the first two weeks of the knee replacement rehab patient experience here.
Walking - Patients are weight-bearing, as tolerated, immediately after surgery. Patients walk out of the surgery center 1½ hours after surgery and begin their physical therapy the very next day. 
Driving - Patients may return to driving, as tolerated, provided they are not under the influence of their post-op prescription pain medications. 
Return to Work - Varies based upon the physicality of the patient's work. Patients may return within days to a couple weeks if they have a desk job. For more physically demanding work, patients should seek clearance from their physical therapist and their employer. 
Air Travel - Patients are able to return to air travel after having their operative sutures removed (typically 1-2 weeks after surgery). 
Cycling/Biking - Well-leg cycling begins on day one after surgery as part of post-op rehab. Most partial knee replacement patients can return to normal cycling within the first few weeks after surgery. 
Swimming/Pool Activities - After having their post-operative sutures removed, patients are able to return to swimming within the first few weeks after surgery. 
Full Activity / Impact Sports - Patients are typically able to return to full activity between 4-8 months, depending on their strength and commitment to their post-operative rehab program. 
Complimentary Virtual/ Phone Consultation
Patients from across the United States and around the world travel to the Robotic Joint Center at The Stone Clinic in San Francisco to have their knees repaired by Dr. Stone. For those patients who do not live in the Bay Area, we offer a complimentary virtual consultation service. 
To find out if a robotic-assisted partial knee replacement is right for you, you may schedule a complimentary consultation for Dr. Stone to personally review your injury via a Zoom video conference meeting or a phone call.
1  Bell, S. W., Anthony, I., Jones, B., MacLean, A., Rowe, P., & Blyth, M. (2016). Improved Accuracy of Component Positioning with Robotic-Assisted Unicompartmental Knee Arthroplasty: Data from a Prospective, Randomized Controlled Study. The Journal of Bone and Joint Surgery. American volume, 98(8), 627–635. https://doi.org/10.2106/JBJS.15.00664
2  Hozack, W. J. (2018). Multicenter analysis of outcomes after robotic-arm assisted total knee arthroplasty. Orthopaedic Proceedings, 100-B(SUPP_12). https://online.boneandjoint.org.uk/doi/abs/10.1302/1358-992X.2018.12.038
3  Kayani, B., Konan, S., Tahmassebi, J., Pietrzak, J., & Haddad, F. S. (2018). Robotic-arm assisted total knee arthroplasty is associated with improved early functional recovery and reduced time to hospital discharge compared with conventional jig-based total knee arthroplasty: a prospective cohort study. The Bone & Joint Journal, 100-B(7), 930–937. https://doi.org/10.1302/0301-620X.100B7.BJJ-2017-1449.R1
4  Kayani, B., Konan, S., Tahmassebi, J., Rowan, F. E., & Haddad, F. S. (2019). An assessment of early functional rehabilitation and hospital discharge in conventional versus robotic-arm assisted unicompartmental knee arthroplasty: a prospective cohort study. The Bone & Joint Journal, 101-B(1), 24–33. https://doi.org/10.1302/0301-620X.101B1.BJJ-2018-0564.R2)
5  Blyth, M., Anthony, I., Rowe, P., Banger, M. S., MacLean, A., & Jone s, B. (2017). Robotic arm-assisted versus conventional unicompartmental knee arthroplasty: Exploratory secondary analysis of a randomised controlled trial. Bone & Joint Research, 6(11), 631–639. https://doi.org/10.1302/2046-3758.611.BJR-2017-0060.R1)
6  Bhowmik-Stoker M, Faizan A, Nevelos J, et al. Do total knee arthroplasty surgical instruments influence clinical outcomes? A prospective parallel study of 150 patients. Orthopaedic Research Society annual meeting, February 2-5, 2019. Austin, TX.
7  Miller, L. (2020, January 23). 70 of the Best Knee Surgeons in America. Becker's Hospital Review. https://www.beckershospitalreview.com/lists-and-statistics/70-of-the-best-knee-surgeons-in-america.html?oly_enc_id=5056A5907723F4Z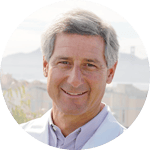 Experienced & Skilled Surgeon: Kevin R. Stone, MD
Dr. Stone is an orthopaedic surgeon at The Stone Clinic & the chairman of the Stone Research Foundation. He was trained at Harvard University in internal medicine and orthopaedic surgery and at Stanford University in general surgery.
Kevin R. Stone, MD is one of the country's most experienced outpatient MAKOplasty surgeons. Dr. Stone has performed over 4500 knee operations (both biologic and robotic-assisted). He was one of the first surgeons to optimize outpatient robotic partial knee replacement. Follow-up studies show a very high success rate since robotic surgery began in 2012, returning professional and amateur athletes back to full activity. Dr. Stone is consistently recognized as the country's top 75 knee surgeons7.
He is a physician for Smuin Ballet and has served as a physician for the U.S. Ski Team, the U.S. Pro Ski Tour, the Honda Ski Tour, Lawrence Pech Dance Company, Marin Ballet, the modern pentathlon at the U.S. Olympic Festival, and for the United States Olympic Training Center. He's been featured on Good Morning America, the Ologies podcast, and the Star Talk podcast hosted by Neal deGrasse Tyson. He is also the best-selling author of the book Play Forever. 
Book an Appointment
Live in the San Francisco Bay Area?