Robotic Total Knee Replacement
The Stone Clinic is very successful at helping people delay or avoid artificial joint replacement. However, for those patients with true bone-on-bone, worn-out knees, The Stone Clinic helps athletes return to full sports with a robotically-assisted total knee joint replacement. 
While no guarantees can be given, we've optimized our robotic surgery program to open the doors to a wide range of sports participation, mean to last decades, to provide pain relief, and to allow for a good range of motion. An artificial joint is not a normal joint and we work around the compromises by focusing on robotic-driven accuracy during surgery followed by immediate physical therapy and whole-body fitness training. As a result, many of our patients return to running, skiing, hiking, swimming, and tennis better than they have been in years.
Key Benefits for Patients
For unparalleled accuracy in surgery, Dr. Stone uses the Stryker MAKO Robotic-Arm Assisted Orthopaedic System. At an outpatient surgery center, a robotic arm—programmed to follow the 3-D model of the knee—is guided by the surgeon. It removes only the area of damage of the joint and with its impeccable precision, creates a host of benefits to the patient: 
Unique Total Knee Replacement benefits:
Advanced knee implant that fuses directly with bone to allow a return to high-level and impact sports.
All robotic surgery at The Stone Clinic: 
Extremely high accuracy of anatomical placement2
A more natural knee motion
Quick recovery3,4
No muscles are cut, less tissue/bone removal
Personalized surgical plan
Small incisions, less scarring
No staples to remove
Less pain5,6,7 & meds
Minimal blood loss & extremely low blood clot risk
Outpatient procedure with no overnight hospital stay required
Our Total Knee Replacement Patient Stories
Hear directly from patients who've undergone our robotic total knee replacement program to safely return to their favorite activities. With world-class surgery, the latest technology-driven implants, and dedication to the specialized StoneFit rehab program, these patients are revolutionizing expectations for life after total knee replacement. 
Dr. Stone says ...

The latest techniques of knee replacement and athletic rehabilitation now permit our patients to have their surgery as an outpatient, to walk on their knee immediately, and to return to sports after full rehabilitation. Increasing exercise and activities naturally increases bone density and muscle strength, remarkably improving the outcomes and satisfaction after total knee replacement.
Specialized Implant Allows Our Patients To Do More
The standard methods and pre-fitted components of traditional total knee replacement surgery give reasonably acceptable outcomes, with marked pain relief for most people. Yet the outcomes are impacted by the fact that bone cement is used to attach the not-quite-precisely-cut bones to the metal implants. As this cement comes loose over time, patients are told to avoid impact exercises for fear of early loosening.
At The Stone Clinic, we use a specialized implant: the MAKO Triathalon Total Knee Implant with a porous undercoating that is specially designed to allow the patient's bone to grow into the implant. This fixes the device securely to the knee without the use of bone cement, traditionally used to attach the implant to the bone in old hand-held methods of knee replacement surgery. As a result, the risk of implants coming loose due to cement failure is reduced dramatically and full sports are then permitted including running.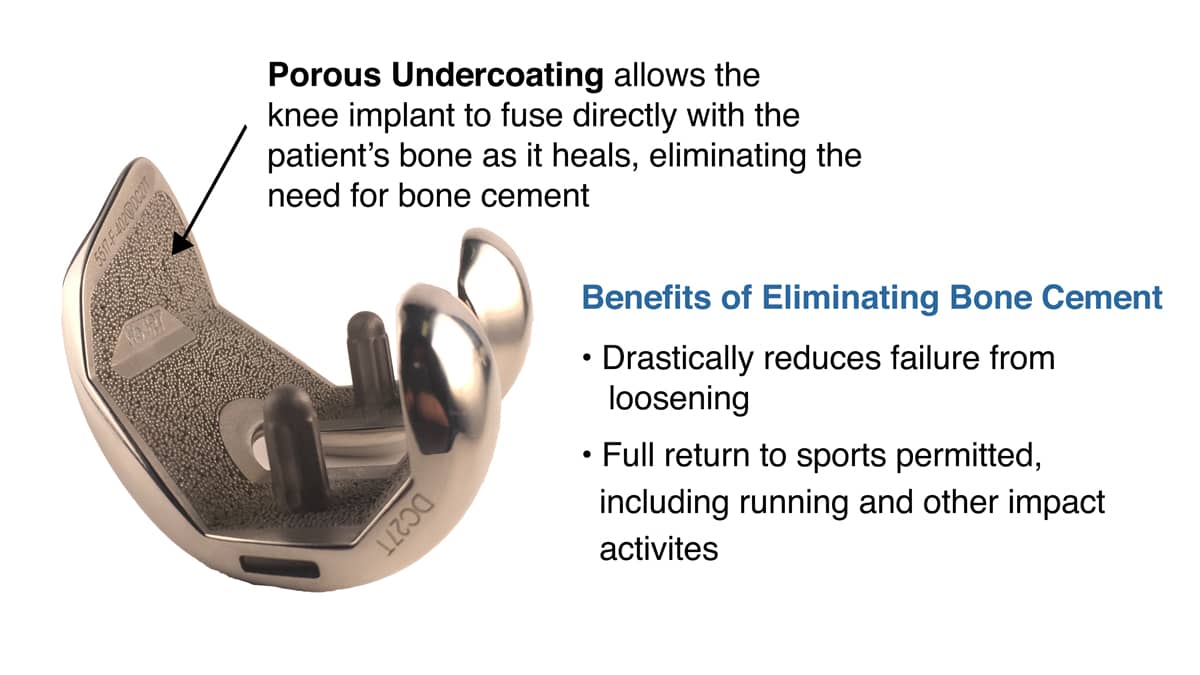 Total Knee Replacement Recovery Timeframe
Below is an estimated timeline for notable recovery milestones after total knee replacement surgery. All times are to be considered approximate, with each patient's actual progression based upon their clinical presentation. Additionally, these estimates are for patients having their joint replaced by Dr. Stone using the Stryker MAKO Robotic-Arm Assisted Orthopaedic System. Recovery times may be longer with other forms of total knee replacement. You may see our total knee replacement rehabilitation protocol in full here. 
Walking - Patients are weight-bearing, as tolerated, almost immediately after surgery. Patients walk out of the surgery center 1½ hours after surgery and begin their physical therapy the very next day. 
Driving - Patients may return to driving, as tolerated, provided they are not under the influence of their post-op prescription pain medications. 
Return to Work - Varies based upon the physicality of the patient's work. Patients may return within days to a couple weeks if they have a desk job. For more physically demanding work, patients should seek clearance from their physical therapist and their employer. 
Air Travel - Patients are able to return to air travel after having their operative sutures removed (typically 1-2 weeks after surgery). 
Cycling/Biking - Well-leg cycling begins on day one after surgery as part of post-op rehab. Most partial knee replacement patients can return to normal cycling within the first few weeks after surgery. 
Swimming/Pool Activities - After having their post-operative sutures removed, patients are able to return to swimming within the first few weeks after surgery. 
Full Activity / Impact Sports - Patients are typically able to return to full activity between 4-8 months, depending on their strength and commitment to their post-operative rehab program. 
Complimentary Virtual/ Phone Consultation
Patients from across the United States and around the world travel to the Robotic Joint Center at The Stone Clinic in San Francisco to have their knees repaired by Dr. Stone. For those patients who do not live in the Bay Area, we offer a complimentary virtual consultation service. 
To find out if a robotic-assisted total knee replacement is right for you, you may schedule a complimentary consultation for Dr. Stone to personally review your injury via a Zoom video conference meeting or a phone call.
You May Not Need a Total Knee Replacement
Often we find that patients have been told they need a total knee replacement when they could, in fact, benefit from a less invasive procedure. Where possible, we biologically reconstruct injured knees using donor tissue as part of our BioKnee program. If the knee is too damaged for a BioKnee procedure, then we aim to replace just the part of the knee which is worn out with a partial knee replacement. 
Citation References
2  Hozack, W. J. (2018). Multicenter analysis of outcomes after robotic-arm assisted total knee arthroplasty. Orthopaedic Proceedings, 100-B(SUPP_12). https://online.boneandjoint.org.uk/doi/abs/10.1302/1358-992X.2018.12.038
3  Kayani, B., Konan, S., Tahmassebi, J., Pietrzak, J., & Haddad, F. S. (2018). Robotic-arm assisted total knee arthroplasty is associated with improved early functional recovery and reduced time to hospital discharge compared with conventional jig-based total knee arthroplasty: a prospective cohort study. The Bone & Joint Journal, 100-B(7), 930–937. https://doi.org/10.1302/0301-620X.100B7.BJJ-2017-1449.R1
4  Kayani, B., Konan, S., Tahmassebi, J., Rowan, F. E., & Haddad, F. S. (2019). An assessment of early functional rehabilitation and hospital discharge in conventional versus robotic-arm assisted unicompartmental knee arthroplasty: a prospective cohort study. The Bone & Joint Journal, 101-B(1), 24–33. https://doi.org/10.1302/0301-620X.101B1.BJJ-2018-0564.R2)
5  Blyth, M., Anthony, I., Rowe, P., Banger, M. S., MacLean, A., & Jones, B. (2017). Robotic arm-assisted versus conventional unicompartmental knee arthroplasty: Exploratory secondary analysis of a randomised controlled trial. Bone & Joint Research, 6(11), 631–639. https://doi.org/10.1302/2046-3758.611.BJR-2017-0060.R1)
6  Bhowmik-Stoker M, Faizan A, Nevelos J, et al. Do total knee arthroplasty surgical instruments influence clinical outcomes? A prospective parallel study of 150 patients. Orthopaedic Research Society annual meeting, February 2-5, 2019. Austin, TX.