An Alternative to Knee Replacement: The BioKnee
Heal biologically. If you are looking for an alternative to a total knee replacement, consider our BioKnee program which rebuilds knees without the use of artificial implants.
The BioKnee® program combines Dr. Kevin Stone's most innovative surgical procedures to create a revolutionary treatment for arthritis. The program has permitted hundreds of people with moderate to severe arthritis to stay active and delay or avoid a total knee replacement. 
Book an Appointment
Live in the San Francisco Bay Area?
What is a BioKnee®?
A BioKnee® is an alternative to an artificial knee replacement. It combines three key procedures that rebuild, regenerate, or biologically replace the damaged parts of the knee using donor tissues, a patient's own healing response, and growth factors. The BioKnee program uses the procedures below individually or in combination to biologically replace your injured joint. 

Articular Cartilage Regeneration
With a BioKnee®, we first repair the articular cartilage, the white shiny surface that covers the ends of the bone. We've been doing this for over 25 years with a technique called Articular Cartilage Paste Grafting, which is clinically proven to promote the regrowth of cartilage inside the knee. In a single-step procedure, we take cells from your own bone marrow and mix them with harvested cartilage cells to form a paste. When the paste is packed into the damaged area of the joint, it is able to regrow cartilage repair tissue.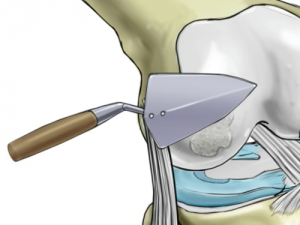 Meniscus Repair, Regeneration, or Replacement
Another BioKnee® procedure repairs, regenerates, or replaces the meniscus, the shock absorber in the knee joint. A damaged or missing meniscus leads to increased forces across the knee and causes arthritis. We have developed new techniques to repair the meniscus and when we can't repair the meniscus, we replace it with a donor meniscus in a procedure called a Meniscus Transplant.
Dr. Stone pioneered the Meniscus Transplant technique and has now performed over 500 meniscus transplants in patients since 1995. The Stone Clinic runs the Meniscus Transplant Center, one of the few centers in the world dedicated to the diagnosis, surgical implantation and rehabilitation of meniscus transplant patients.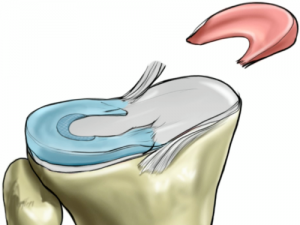 Ligament Reconstruction
Another BioKnee® solution is to fix damaged ligaments in order to properly stabilize the knee and prevent uneven wear on the articular cartilage bearing surface caused by loose, unstable knee joints. We are able to repair, reconstruct, or replace these ligaments often using donor tissue.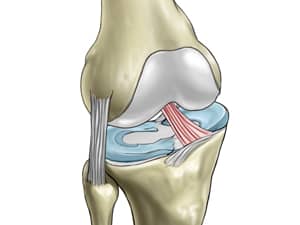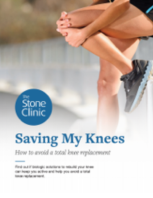 Download a Guide to our Knee-Saving Procedures
Explore all your options. Learn about procedures that can help you return to sports & delay or avoid an artificial knee replacement.
Our BioKnee Patient Stories
BioKnee patients are competing in IronMan triathlons, skiing a hundred days a year, surfing, hiking, biking, and so much more. Hear directly from BioKnee patients about their recoveries, treatment experiences, and the sporting activities they are enjoying today. 
Watch More BioKnee Patient Stories
Book an Appointment
Live in the San Francisco Bay Area?
Complimentary Virtual/ Phone Consultation
Patients from around the world travel to the Meniscus Transplant Center at The Stone Clinic to have their knees biologically repaired by Dr. Stone. For those patients who do not live in the San Francisco Bay Area, we offer a complimentary virtual consultation service. 
To find out if the BioKnee is right for you, you may schedule a complimentary consultation for Dr. Stone to personally review your injury via a Zoom video conference meeting or a phone call.
Our skilled, onsite physical therapists are specially trained in rehabilitation techniques for meniscus transplantation and our BioKnee surgical repairs to help our patients get back to an active lifestyle as quickly as possible.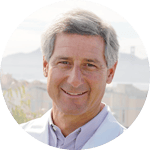 Experienced & Skilled Surgeon: Kevin R. Stone, MD
Dr. Stone is an orthopaedic surgeon at The Stone Clinic & the chairman of the Stone Research Foundation. He was trained at Harvard University in internal medicine and orthopaedic surgery and at Stanford University in general surgery.
Dr. Stone is one of the world's leading experts in meniscus transplantation and a pioneer of biologic orthopaedic techniques. For over 30 years, he and his team have specialized in giving people back their vital meniscus shock absorbers. The Meniscus Transplant Center at The Stone Clinic is an international destination for meniscus transplantation, dedicated to the diagnosis, surgical implantation, and rehabilitation of people in need of meniscus tissue. Dr. Stone is consistently recognized as the country's top 75 knee surgeons1.
He is a physician for Smuin Ballet and has served as a physician for the U.S. Ski Team, the U.S. Pro Ski Tour, Lawrence Pech Dance Company, Marin Ballet, the modern pentathlon at the U.S. Olympic Festival, and for the United States Olympic Training Center. He's been featured on Good Morning America, the Ologies podcast, and the Star Talk podcast hosted by Neal deGrasse Tyson. He is also the best-selling author of the book Play Forever. 
Book an Appointment
Live in the San Francisco Bay Area?