Kevin R. Stone, MD
Dr. Stone was trained at Harvard University in internal medicine and orthopaedic surgery and at Stanford University in general surgery. His fellowship was in research at the Hospital for Special Surgery and in knee surgery in Lake Tahoe.  Dr. Stone is consistently listed as one of the country's top 25 Ambulatory Surgery Center (ASC) leaders and ranks amongst the country's top 75 knee surgeons.1
He is a physician for Smuin Ballet and has served as a physician for the U.S. Ski Team, the U.S. Pro Ski Tour, the Honda Ski Tour, the Jeep 48 Straight Tour, the Old Blues Rugby Club, Lawrence Pech Dance Company, Marin Ballet, the modern pentathlon at the U.S. Olympic Festival, the United States Olympic Training Center, and for the World Pro Ski Tour. He's been featured on Good Morning America, the Ologies podcast, and Star Talk podcast hosted by Neal deGrasse Tyson. He is the best-selling author of the book Play Forever. He also served as a columnist for the San Francisco Examiner and writes a weekly blog at www.stoneclinic.com/blog.
Dr. Stone enjoys skiing, windsurfing, and biking. 
Dr. Stone's New Book Play Forever Now Available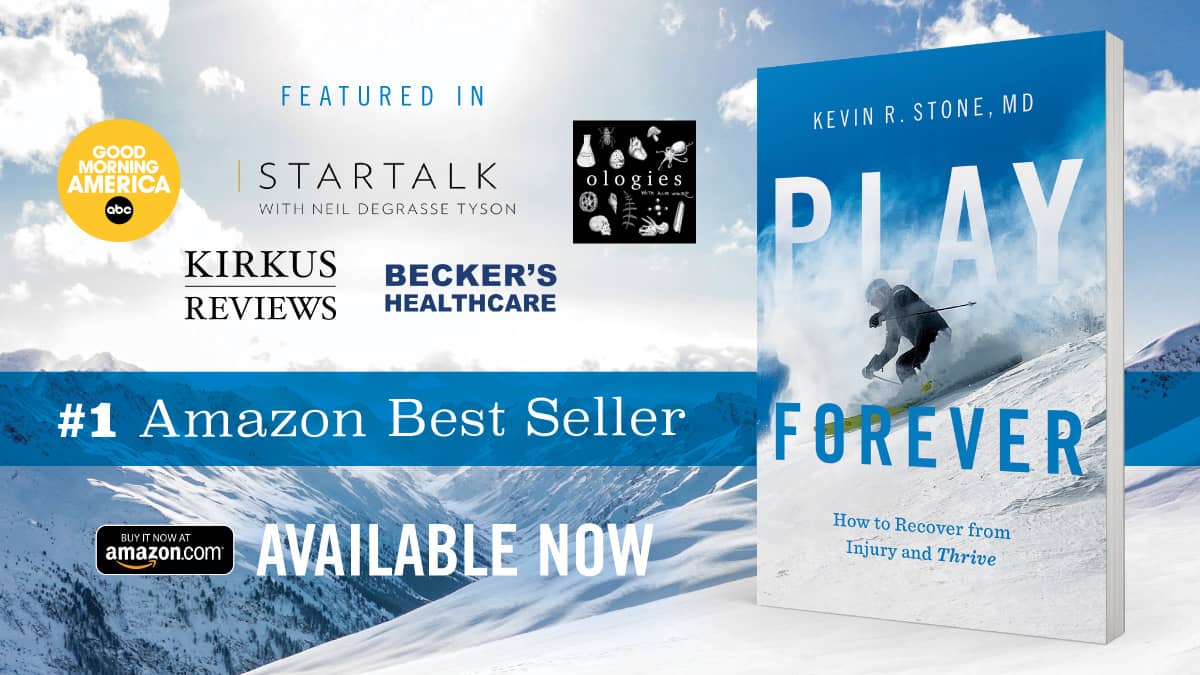 In his efforts to help athletes everywhere stay active for life, Dr. Stone released a book: Play Forever: How to Recover from Injury & Thrive. Play Forever explores all the ways you can achieve your best self, feeling vigorous and physically fulfilled throughout all your decades. Dr. Stone advises on how to avoid injury and how to repair and replace what does get injured using the latest medical technologies. He emphasizes the importance of keeping up with preventive care and eating and hydrating like you plan to live forever. You may purchase Play Forever on Amazon or at our Clinic. 
Dr. Stone says ...

"I am an orthopaedic surgeon, clinician scientist, inventor and founder of multiple companies. I divide my life between clinical practice, nonprofit research and for-profit research. My clinical and research focus is on biologic joint repair and regeneration for the knee, shoulder and ankle to keep injured people and people with arthritis active. I have been fortunate to rebuild world-class Olympic athletes and weekend warriors and have learned from each person that injuries are opportunities to improve yourself. The best recoveries come from those who see themselves when injured as athletes in training and not patients in rehab."
Featured Talks & Presentations
Appointments & Memberships 
Clinical Appointments:
Orthopaedic Surgeon (private practice) 1988 - Present 
The Stone Clinic, San Francisco, CA
Founder and Chairman 1996 - Present
Stone Research Foundation, San Francisco, CA
Attending Staff 1988 - Present
California Pacific Medical Center, San Francisco, CA 
Attending Staff 2016 – Present
St. Francis Memorial Hospital, San Francisco, CA 
Attending Staff 2017 – Present
Fremont Surgery Center, Fremont, CA
Other Appointments 
Memberships
Dr. Kevin Stone is a member of the following professional medical and clinical research organizations: 
See Dr. Stone's full Curriculum Vitae
---
Experiencing undiagnosed knee pain? Use our Knee Pain Symptom Checker to learn more about your symptoms and possible injury conditions.