Treatment Team
All of us at The Stone Clinic share a core philosophy: a dedication to your well-being.
You'll find that each of us brings a unique skill set to your treatment. We always take the time to listen, understand and explain carefully.
 
---
Karina Nuñez
Front Office Manager
Karina completed her undergraduate career at the University of California, Berkeley in Integrative Human Biology. She aspires to attend medical school to obtain her doctorate in Sports Medicine. She has explored a range of opportunities from assisting in research, teaching and working throughout the scope of sports medicine.
Karina is also fluent in Spanish. Being raised in the North Tahoe region, she enjoys the outdoors and you can often find her on the slopes, trailheads, in the gym, and at different widespread events throughout the globe!
Mark Coleman, R.T. (R)
Radiology Technician
As head of our X-Ray and MRI Departments since 1994, Mark is responsible for all of the images taken at The Stone Clinic, and he consistently obtains high-quality images to aid in the proper diagnosis of our patients. Mark handles all of the shipping and receiving for the Clinic as well. Mark graduated in 1993 from City College of San Francisco with an AS degree in diagnostic medical imaging. In addition, Mark is a talented artist, and his work is proudly displayed at The Stone Clinic.
Thomas E. Bohnke, Jr. (TJ)
Surgical Coordinator
TJ started working in the medical field as a Medical Assistant in 2013 after completing his program at the Carnegie Institute. TJ then decided to go back to school for Cardiac Electrophysiology and graduated from my program in 2016. He then served in the OR and EP labs as a tech from 2016-2019. Seeking more patient interaction, TJ transitioned into a surgical coordinator role within cardiology. Combining his professional experience and his deep compassion for patients, TJ ultimately fell in love with the role! He joined The Stone Clinic in the spring of 2021 and now supports Stone Clinic surgery patients in having positive and seamless surgery experiences.  
Alejandro Molina
Front Office Coordinator
Alejandro graduated from University of California, Santa Cruz with a degree in Human Biology. He has been part of the orthopaedics specialty since 2016 and finds sports medicine a very rewarding field. He has a passion for helping others live their best lives and aspires to become a Nurse Practitioner to do exactly that. Born and raised in Ecuador, Alejandro is a fluent Spanish speaker and has grown up enjoying the outdoors. If he is not out on the trail, he enjoys cooking and testing new recipes with his family.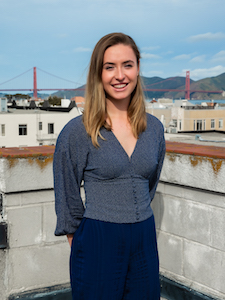 Caroline Ferguson-Dryden, EMT-B
Research Assistant and Medical Assistant
Caroline Ferguson-Dryden completed her undergraduate education at Amherst College with a Bachelor's of Arts degree in Psychology. While at Amherst, she participated in four years of NCAA DIII Track and Field specializing in the javelin. Caroline is a certified EMT-B and has volunteered as an EMT for three years. Caroline plans to attend medical school with aspirations to work for global humanitarian organizations within the field of orthopaedics, emergency, or wilderness medicine in addition to progressing the field of medicine as a physician-scientist. 
As a San Francisco native, she is an avid rock climber, tennis player, and backpacker who loves to travel every chance she gets!
Shannon C. Murphy, ATC
Certified Athletic Trainer
Shannon earned her Master's Degree in Education (Emphasis in Exercise science) from Campbell University where she worked as a Graduate Assistant Athletic Trainer with the women's volleyball and men's/women's track and field programs. Prior to Campbell, she attended CSU Fresno and earned her Bachelor of Science degree in Athletic Training. Shannon enjoys incorporating functional sport and activity specific approaches to each physical therapy session.  
Shannon is a Bay Area native and loves spending time enjoying San Francisco or heading to Lake Tahoe with family and friends. 
Morgan Gilfillan, MS, ATC, NASM-CES
Athletic Trainer
Morgan earned her Master's in Kinesiology, emphasis in Sports Performance, from Point Loma Nazarene University. Simultaneously, she worked as the Graduate Assistant Athletic Trainer with the football, softball, and cheer programs at the University of San Diego. Prior to PLNU, she attended San Diego State University and earned her Bachelor of Science degree in Athletic Training. Her experience includes working at the NCAA Division I and II collegiate settings as well as an orthopaedic clinical setting. Her clinical skills include PNF, IASTM, corrective exercise, and myofascial decompression. She enjoys getting creative with functional exercises to help people reach their fitness and rehabilitation goals.
 
Morgan is a Bay Area native and is excited to be back and closer to her family. She also loves spending time outdoors, working out, and hanging with her pup, Porter. 
John V. Crues, III, MD
Radiologist
John V Crues, III, MD, is a world-renowned radiologist, and he plays a significant role as a musculoskeletal specialist for many of The Stone Clinic's patients. Dr. Crues received his MD at Harvard University, completed his internship at the University of Southern California in Internal Medicine, and completed a residency at Cedars-Sinai Medical Center in Internal Medicine and Radiology. He has authored numerous publications while continuing to actively participate in radiological societies such as the Radiological Society of North America, American College of Radiology, California Radiological Society, the International Society for Magnetic Resonance Medicine and the International Skeletal Society. Dr. Crues currently has ongoing research projects in orthopedic and rheumatologic MRI. He has published over 100 articles, 20 textbook chapters, and eight textbooks in the medical literature.