The StoneFit™ Program
More than anything, StoneFit™ is an attitude. 
Your injury or arthritis is not an excuse to give up your activities, quite the opposite. Your injury is the motivation to become fitter, faster, and stronger® than you have been in years.
---
StoneFit™ Online Group Fitness Classes Now Available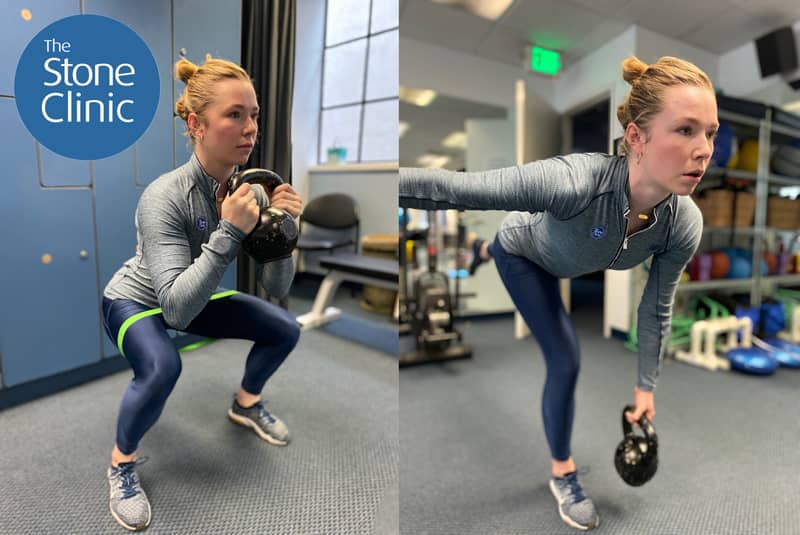 The Fitness & Rehab Team hosts complimentary StoneFit™ group fitness classes live from the Stone Performance Center™ via Zoom video conference each Monday & Wednesday. Our community becomes fitter, faster, stronger with every session under the expert guidance of The Stone Clinic fitness trainers, Morgan & Tyler. With minimal equipment needs and guided exercise modifications, our class accommodates almost all fitness levels and ages.
Classes Mondays & Wednesdays 8am PST (Timezone Converter)

To attend classes, sign up in the form below (checking the StoneFit Online box) to receive our class links and any future news on our online fitness program. 
We also have a library of fitness and rehabilitation videos available here. 
---
Become StoneFit
StoneFit is an energizing, high-intensity interval training program taken under the careful guidance of our athletic trainers. The program is uniquely adapted to meet the needs of people rehabilitating after an injury or looking to increase their overall strength and athletic function. Encouraging a whole food nutritional advice lifestyle, StoneFit helps speed recovery and promotes a new level of fitness.
The StoneFit program encourages you to see yourself as an athlete in training, now and forever, whether your goal is to walk to the store without pain or to get back into the half pipe on your skis. Just like a professional athlete would do, you need to focus on optimal nutrition, fitness, and strength. 
StoneFit helps you have FUN while doing this. Since variety is the spice of life, the program focuses on efficient, intense workouts to train the total-body simultaneously, helping to improve all kinds of fitness areas: strength, agility, balance, proprioception, cardiovascular/respiratory endurance, stamina, flexibility, power, coordination, and accuracy. The short exercises are completed one after the other, all of this possible even while recovering from an injury, we design custom programs depending on your circumstance. For a severe knee injury, for example, a single leg squat with a Kettlebell reach trains many of the body's musculature and skills. Active people, recovering from a knee or hip replacement, can combine balance skills standing on a pillow, while swinging a very light kettlebell. This rapidly improves core strength and balance skills. The combinations are endless. 
Nutritional guidance
Part of StoneFit encourages weight optimization and a focus on nutrition. We work with patients to encourage them to focus on whole-foods derived from plants, lean protein, and to dramatically reduce simple carbohydrates, refined sugars, and processed foods. We suggest increasing water intake to a tall glass of plain non-carbonated water every hour, which eliminates calorie-laden foods and sugary drinks.