Robotic Joint Center
The Robotic Joint Center at The Stone Clinic is an international destination for robotic-assisted surgery for athletic total and partial knee replacement.
We have patients now running triathlons and (ultra)marathons, climbing mountains, skiing a hundred days a year on their replaced parts inside their knee. The groundbreaking innovations in robotic surgery are redefining the limits of our athletes and expanding the expectations of what is possible after knee replacement.
Book an Appointment
Live in the San Francisco Bay Area?
Key Benefits 
Kevin R. Stone, MD performs robotic knee replacements using the Stryker MAKO Robotic-Arm Assisted Orthopaedic System. In an outpatient procedure, the MAKO robotic arm—programmed to follow a computerized 3-D model of the patient's knee—is guided by Dr. Stone to remove only the damaged tissue from the joint and insert the implants with exquisite, consistently reproducible precision. This minimally invasive technique gives the patient a strong, natural-feeling knee that provides rapid pain relief and a return to an active lifestyle. Below are some of the benefits of a robotic-assisted knee replacement.
All Robotic Surgery at The Stone Clinic
Personalized surgical plan
Extremely high accuracy of anatomical placement1
A more natural knee motion
Quick recovery2,3
No muscles are cut, less tissue/bone removal & scarring
Less pain4,5,6 & meds
Outpatient procedure with no overnight hospital stay required
Unique Partial Knee Replacement Benefits
All 4 stabilizing ligaments remain intact (ACL, PCL, MCL, LCL)
Non-arthritic articular cartilage left intact 
A unicompartmental replacement may be expanded into a bi-compartmental or total knee replacement later in life
Unique Total Knee Replacement Benefits
Advanced knee implant that fuses directly with femur bone to allow a return to high-level and impact sports.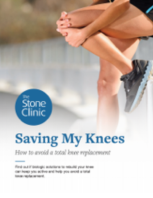 Download a Guide to our Knee-Saving Procedures
Explore all your options. Learn about procedures that can help you return to sports & delay or avoid an artificial knee replacement.
Our Robotic Knee Replacement Patient Stories
Hear directly from patients who've undergone our robotic joint replacement program to safely return to their favorite activities. With world-class surgery and dedication to the specialized StoneFit rehab program, these patients provide proof and inspiration of what life after knee replacement can be. 
Watch More Knee Replacement Stories
Book an Appointment
Live in the San Francisco Bay Area?
How Robotic-Assisted Surgery Works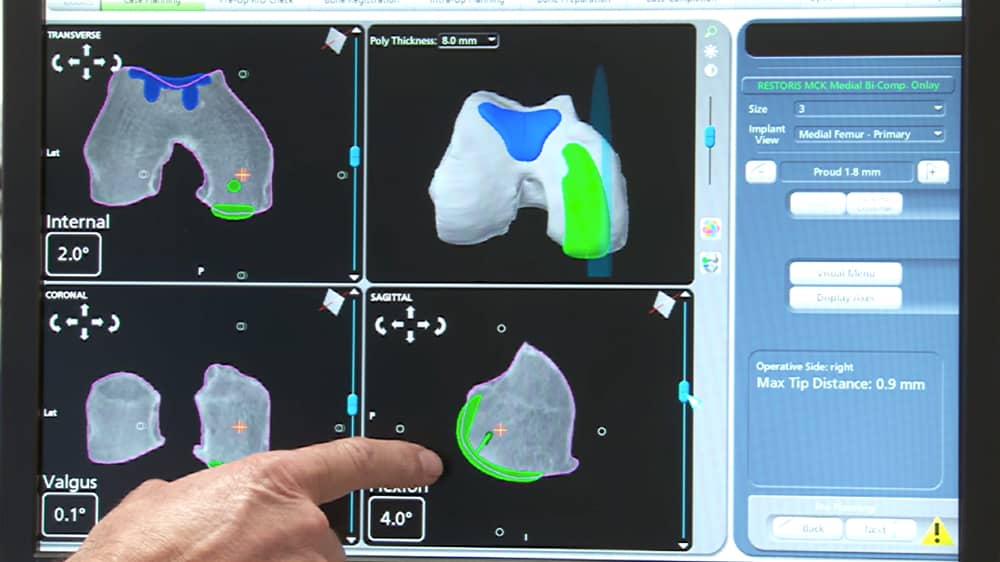 Personalize Surgical Planning
No two knee joints are exactly the same. So, the first step is patient-specific surgical planning. Before surgery, we take a CT scan of your knee to develop a complete 3D virtual model of your unique knee joint. 
Dr. Stone uses this model to fully evaluate your bone structure, disease severity, joint alignment, and even the surrounding bone and tissue, so he can determine the optimal size, placement, and alignment of your implant within your knee. It is this level of pinpoint precision that provides a more natural knee motion following surgery.
Remove Arthritic Bone
In the operating room, the combination of a robotic arm an​d computer navigation provides Dr. Stone with real-time visual, tactile, and auditory feedback to help him guide MAKO's robotic arm to remove the arthritic bone and cartilage from the knee while staying safely within the boundaries of your personalized surgical plan— ensuring that only diseased bone is removed and all healthy bone and soft tissue are preserved.  
Place Implant
With the diseased bone gone, your implant is placed according to your plan. 
For partial knee replacements, we can resurface each compartment of the knee independently (as unicompartmental or unicondylar replacement) or in combination (as a bi-compartmental knee replacement). 
When a total knee replacement is necessary, we use a specialized implant, the MAKO Triathalon Total Knee Implant, with a porous undercoating specially designed to allow the patient's bone to grow into the implant. This fixes the device securely to the knee without the use of bone cement traditionally used to attach the implant to the bone in old hand-held methods of knee replacement surgery. 
By eliminating bone cement and using modern components that grow into the bone, the possibility of the implants coming loose due to cement failure is reduced dramatically. Once the bone heals to the components, full sports are then permitted including running.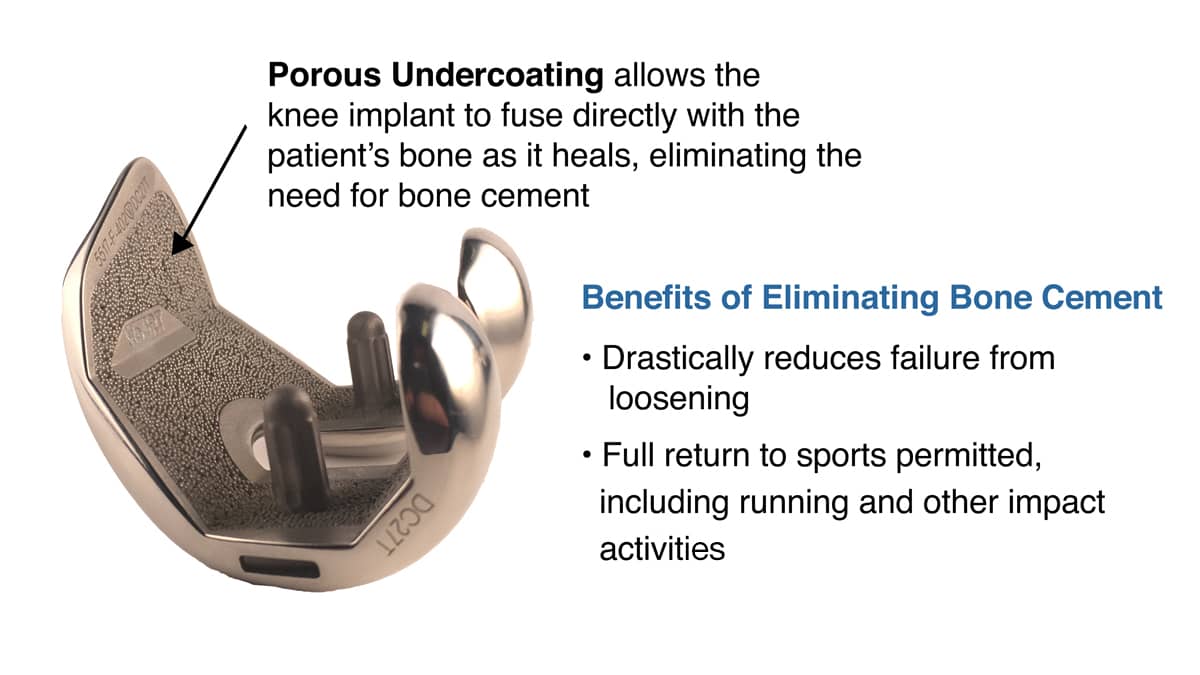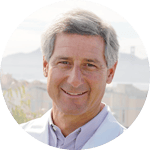 Experienced & Skilled Surgeon: Kevin R. Stone, MD
Dr. Stone is an orthopaedic surgeon at The Stone Clinic & the chairman of the Stone Research Foundation. He was trained at Harvard University in internal medicine and orthopaedic surgery and at Stanford University in general surgery.
Kevin R. Stone, MD is one of the country's most experienced outpatient MAKOplasty surgeons. Dr. Stone has performed over 4500 knee operations (both biologic and robotic-assisted). He was one of the first surgeons to optimize outpatient robotic partial knee replacement. Follow-up studies show a very high success rate since robotic surgery began in 2012, returning professional and amateur athletes back to full activity. Dr. Stone is consistently recognized as the country's top 75 knee surgeons7.
He is a physician for Smuin Ballet and has served as a physician for the U.S. Ski Team, the U.S. Pro Ski Tour, the Honda Ski Tour, Lawrence Pech Dance Company, Marin Ballet, the modern pentathlon at the U.S. Olympic Festival, and for the United States Olympic Training Center. He's been featured on Good Morning America, the Ologies podcast, and the Star Talk podcast hosted by Neal deGrasse Tyson. He is also the best-selling author of the book Play Forever. 
Book an Appointment
Live in the San Francisco Bay Area?




1  Bell, S. W., Anthony, I., Jones, B., MacLean, A., Rowe, P., & Blyth, M. (2016). Improved Accuracy of Component Positioning with Robotic-Assisted Unicompartmental Knee Arthroplasty: Data from a Prospective, Randomized Controlled Study. The Journal of Bone and Joint Surgery. American volume, 98(8), 627–635. https://doi.org/10.2106/JBJS.15.00664
2  Hozack, W. J. (2018). Multicenter analysis of outcomes after robotic-arm assisted total knee arthroplasty. Orthopaedic Proceedings, 100-B(SUPP_12). https://online.boneandjoint.org.uk/doi/abs/10.1302/1358-992X.2018.12.038
3  Kayani, B., Konan, S., Tahmassebi, J., Pietrzak, J., & Haddad, F. S. (2018). Robotic-arm assisted total knee arthroplasty is associated with improved early functional recovery and reduced time to hospital discharge compared with conventional jig-based total knee arthroplasty: a prospective cohort study. The Bone & Joint Journal, 100-B(7), 930–937. https://doi.org/10.1302/0301-620X.100B7.BJJ-2017-1449.R1
4  Kayani, B., Konan, S., Tahmassebi, J., Rowan, F. E., & Haddad, F. S. (2019). An assessment of early functional rehabilitation and hospital discharge in conventional versus robotic-arm assisted unicompartmental knee arthroplasty: a prospective cohort study. The Bone & Joint Journal, 101-B(1), 24–33. https://doi.org/10.1302/0301-620X.101B1.BJJ-2018-0564.R2)
5  Blyth, M., Anthony, I., Rowe, P., Banger, M. S., MacLean, A., & Jone s, B. (2017). Robotic arm-assisted versus conventional unicompartmental knee arthroplasty: Exploratory secondary analysis of a randomised controlled trial. Bone & Joint Research, 6(11), 631–639. https://doi.org/10.1302/2046-3758.611.BJR-2017-0060.R1)
6  Bhowmik-Stoker M, Faizan A, Nevelos J, et al. Do total knee arthroplasty surgical instruments influence clinical outcomes? A prospective parallel study of 150 patients. Orthopaedic Research Society annual meeting, February 2-5, 2019. Austin, TX.
7  Miller, L. (2020, January 23). 70 of the Best Knee Surgeons in America. Becker's Hospital Review. https://www.beckershospitalreview.com/lists-and-statistics/70-of-the-best-knee-surgeons-in-america.html?oly_enc_id=5056A5907723F4Z