Top Ten Ways to Run, Safely
Running is safe. No joint is injured solely by running, despite what you may have heard. Running only damages already damaged joints.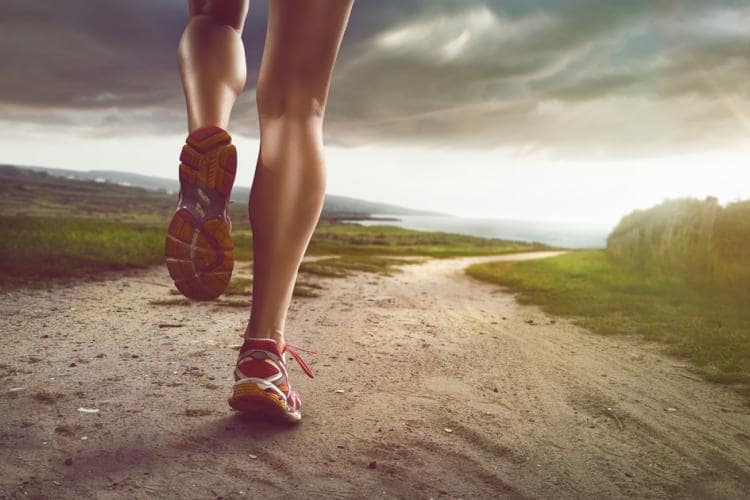 You can run forever if you have healthy joints and good running mechanics.
However, if you have lost your meniscus cartilage, suffer from arthritis, or have lost motion from tight hips, ankles, or a torn ligament that causes your knee joint to move abnormally, running can indeed cause damage to the cartilage in the joints. Running with poor form is like driving a car that is out of alignment: The tires wear out faster, but there are safe ways to run.
The following, in no particular order of importance, are my best tips:
Stretch first. Pay attention to which joints are tight and work on loosening them up. Get your mind into the sport you are about to do, while leaving the stresses of work and life behind.  
Run with short strides. Most people don't know that whether you walk a mile or run a mile, the same total force or load is placed on the knee joints. But the peak forces are higher with running—especially if the heel lands first. Running with short strides makes mid-foot landing easier and has been shown to reduce the high peak forces generated when the heel strikes the ground first.
Run on soft surfaces. Reducing peak forces can be achieved by soft landings. Grass, soft tracks, beaches, and trails are preferred over streets.
Run with new shoes. While your running shoes may not look worn out, the mid-soles (the layers between the sole and the shoe bed) become stiff with time and use.
Run in the water. Pool running is enormously efficient at raising your heart rate due to the resistance of the water. The easiest way is to run in chest-deep water, from one side of the pool to the other. Try running 20 laps. Time yourself, and run a little faster each day. Deep-water running is what we have our patients do while recovering from knee injuries. In deep water, use a high sprinter technique with the knees coming up to the chest, the hands cupped, and the water pulled down with the hands.
Use an ElliptiGO. The ElliptiGO is an elliptical machine that can go on the road. It is the closest activity to running I have found and is an ideal substitute for arthritic knees or just to decrease the mileage loads. Use it for hill climbing whenever possible, as it works the gluteal muscles better than any other device. And it is fun!
Add sprinting to your regimen. Most runners I talk with don't sprint anymore. They sprinted in high school and then forgot about it. Numerous studies have shown that short workouts can have the same (or sometimes more) benefits than long ones. Interspersing sprinting into your running workouts raises both the intensity and the cardiovascular benefit.
Fuel and hydrate. Are you trying to break down your body or build it up? If you want to improve, you must take in nutrients before you run, during your run, and after your run. This way, your body can incorporate these fuels into the new musculature you are trying to build. Many runners run dry and hungry and then wonder why they break down.
Get a run fit assessment. While most serious cyclists have a bike fitting session before buying a new bike, few runners ask a pro to look at their gait. Many top physical therapists and running coaches spend hours with patients, helping them recover good walking and running form after injuries. Book a pre-injury appointment…and you'll hopefully never show up again.
Treat injuries aggressively. Running on an injured joint destroys the joint surfaces and shortens running careers. Get full, accurate diagnoses and repair damaged tissues early. The entire field of sports injury treatment is moving in the direction of accelerated healing with native repair cells and growth factors and tissue repair, regeneration, and replacement. The days of removing the torn tissue and returning to the doctor years later for an artificial joint replacement are over. You can run forever if you keep what you have, fix what you break, and use your head in addition to your body.
---
Surgery Patients Who've Safely Returned to Running After Injury
We have patients now running triathlons and (ultra)marathons, climbing mountains, skiing a hundred days a year on the replaced parts inside their knees. Below is the story of an ultra runner Lanny Benson who maintained his ultra running career at age 65 with a robotic partial knee replacement. 
You may learn more about how our knee replacement program can help keep you running at our Robotic Joint Center page.