ACL Depression Syndrome
You ski fast. You make one small error.  You get back on the tails of your skis—but one ski skids out to the side.  That's when you hear a pop, and get a nauseating feeling in your stomach.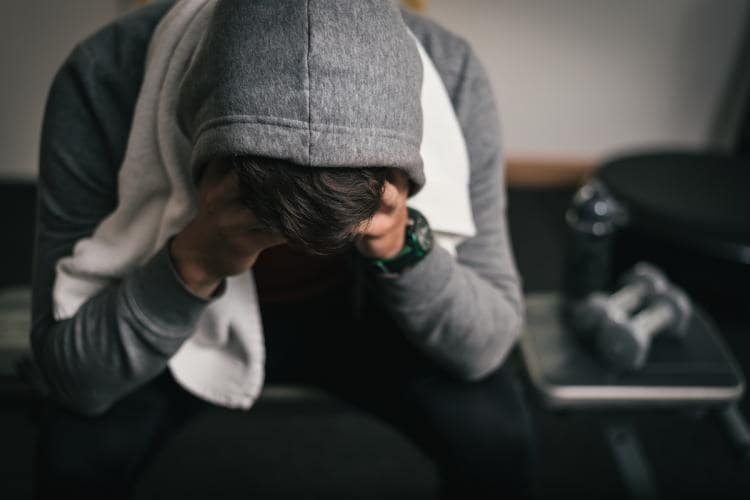 Your binding doesn't release; it's your knee that has given way.  Your anterior cruciate ligament, or ACL—the key stabilizer of the knee—has ruptured, as your shin bone is locked in your ski boot. Your ACL moved forward while your thigh bone, or femur, moved backwards. 
After your fall your try to get up, but when you put pressure on the ski your knee buckles. Intuitively you know what you have done, though you hope it isn't so.  
The ski patrol arrives, checks you out, loads you into the toboggan and slides you down to the mountain base clinic. There, you encounter four other people with the same story. A brief exam by the all-knowing medical staff, a recommendation to see your orthopaedic surgeon when you get home, and an ice bag for your knee are your souvenirs, marking the early end of your vacation. 
There is a morbid frenetic excitement about the whole process.  You realize that your ski season is over, and your plans for the Spring up in the air,. You make multiple phone calls to see the top doctor, the one you have heard has the best results.  Finally, the exam confirms the diagnosis. The X-rays show your healthy bones, and the MRI shows the ruptured ligament. You schedule the surgery, meet with the physical therapists, and reorganize your life and work.   
Finally, the surgery happens. All goes well. You begin your rehab—but a couple of weeks later, you hit the skids. You've had it. You are sick of the soreness, the dressings, the ice machines, the knee braces, the PT appointments. You just want your life back.   
There's a name for this malaise. You have officially acquired "ACL depression syndrome." A recent study documented that 40% of people who undergo ACL surgery experience clinically diagnosable depression. Life disruptions are a drag—especially when they put the brakes on your active lifestyle. 
ACL depression syndrome is best treated with daily exercise. The sweat is accompanied by an elevation in testosterone, pheromones, adrenaline, and endorphins. All contribute to raising the happiness level.   
My best patients use the excuse of the injury to excel at new sports while recovering from their injuries. Pilates, pool exercise, upper body weight lifting—we recommend them all.  We set goals for patients to come back fitter, faster, and stronger than they were before they were injured—and we test them every few months to set new goals.   
Those who buy into this program succeed in warding off the depression, or at least in shortening its length and intensity. Those who succumb to laziness or lassitude are stymied in their return to all-around fitness. 
ACL depression syndrome is endemic to all athletes who begin as driven, healthy, fit, and life-loving people—and in a moment they become victims of a sports injury, facing an uncertain future.   
As doctors and therapists, our ability to cultivate the innate abilities of optimistic talented people defines the level and speed of their recovery.  At some point in their life, all athletes get injured.  The best athletes use that injury as a platform to excel, and come back better than ever. 
---
Hear From ACL Surgery Patients Who Persevered Through Their Own Recovery Struggles