ACL injury in women: How to beat the odds
When it comes to knee injuries through playing sports, statistics tell us that women are more likely to be injured than men.
The incidence of significant knee injury among females is roughly five times higher per player per hour than it is for males. Women are up to eight times more likely to sustain an ACL tear, one of the most serious injuries to the knee.
The ACL is a primary stabilizer of the knee joint. It is a rubber bandlike fiber no bigger than your pinkie. It runs through the center of the knee joint, attaching the thighbone (femur) to the shinbone (tibia). A tear can be a devastating injury to any athlete, involving many months of rehabilitation.
While sports like jogging, swimming and biking place little stress on the ACL, sports such as soccer, basketball, and volleyball that involve cutting, planting, and changing direction put athletes, particularly females, at the greatest risk of ACL injury.
Multiple studies have set out to discover why women are more likely to tear their ACL than men. Scientists cite anatomical differences, such as a woman's wider pelvis, which makes her thighbones angle downward more sharply than a man's (the so-called Q angle) creating a knock-knee tendency in women.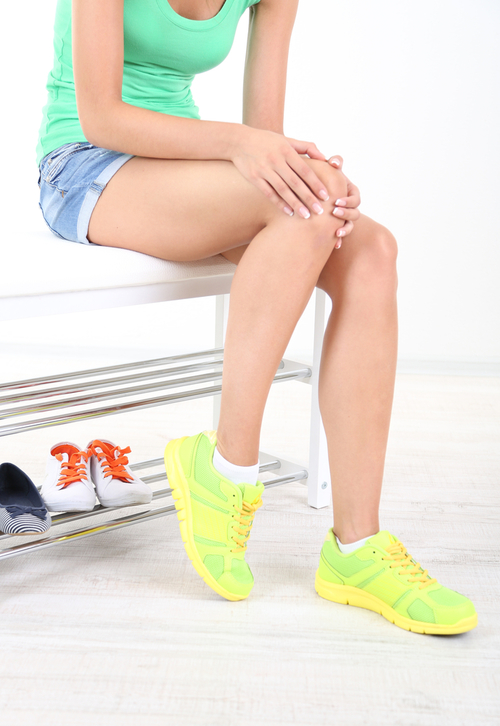 Some studies point to the relationship between the intercondylar notch (the groove in the femur through which the ACL travels) and ACL injuries, concluding that the smaller notch width in women is to blame. Hormones have also been named as culprits since estrogen affects the laxity or looseness of the joints. Greater joint laxity means greater stress on the ligaments.
While noteworthy, these numerous studies are not particularly helpful to women since they do not point to any obvious ways of preventing the injury, short of changing their anatomy or biochemistry.
Although we cannot do this, we can, however, help change the way girls and women move. The good news about ACL tears is that 70 percent are non-contact injuries, in other words, they don't involve an outside force such as an opposing player, goalpost, or another object on the field or court. ACL injuries appear to occur most frequently during deceleration activity such as a sudden stop, change in direction or landing from a jump. Both are factors that can be influenced substantially through functional (not sport-specific) training, which emphasizes quality of movement and builds form, flexibility, and strength.
At The Stone Clinic, we recommend jumping and landing training, with a focus on landing with the knees in neutral position over the feet. This exercise, when combined with squats, is the best combination for lower extremity training and injury prevention.
While ACL injuries in women show no sign of slowing down, newer methods of ligament and cartilage repair, regeneration, and replacement may make the consequences of those previously debilitating injuries much less severe. At The Stone Clinic, we have developed novel ways of replacing a damaged ACL using donor tissue, following strict guidelines about what type of tissue to use. We no longer use the patient's own hamstring, which can leave them slightly weaker in knee flexion.

If you have knee pain inside your knee, most commonly you've torn your ACL (anterior cruciate ligament). At The Stone Clinic in San Francisco we can reconstruct the ACL using donor tissue.
We also add growth factors and native repair cells to diminish the impact of an ACL injury and speed healing. These techniques are also critical to our success in revising failed repairs or re-injured ACLs. More than 90 percent of our patients are able to return to full sports with a stable knee. The data is overwhelming that no matter how young the patient, ACL injuries should be repaired or reconstructed as soon as possible, to prevent the damage to the meniscus and articular cartilage that comes from an unstable knee.