Dave Pottruck: The Bionic Man
Dave Pottruck fought hard as a collegiate wrestler. As a big man with large bones and a hard head, his body took a beating. Dave had the classic unfortunate knee surgery in 1967 when his surgeon removed a torn meniscus. Decades of skiing, tennis, and other sports later, his joints finally gave out. Still, his athletic desire never did. Here is one man's journey to play forever—even if it meant becoming a "bionic man."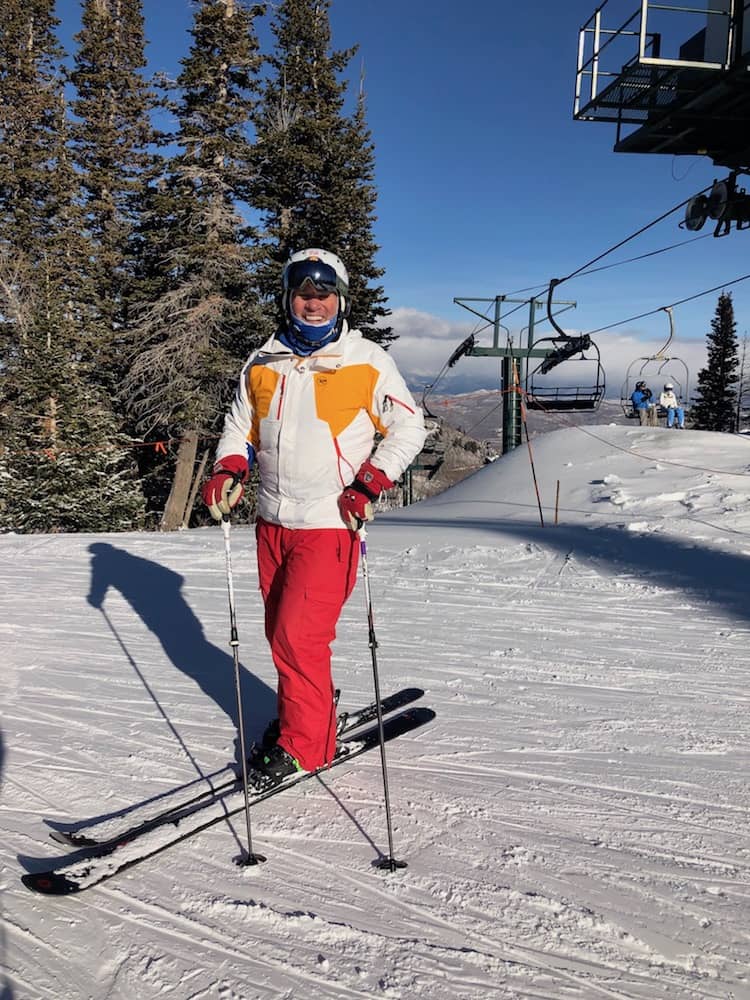 Athleticism and work ethic go hand in hand. Dave had the intensity to work hard and play hard in every setting, which led to his leadership roles on sports teams and as the CEO of a major financial institution. In 1994, he developed knee pain with evidence of loose pieces in the joint, as well as a chronically torn anterior cruciate ligament (dating back from a college sports injury) and degenerative arthritis typical of an unstable sport injured knee. An arthroscopy removed the loose body, smoothed down damaged cartilage, and removed scar tissue.
In 1996, after going "airborne" while skiing, Dave reinjured this knee. A torn meniscus was trimmed and loose bodies removed. A microfracture surgery was performed on the exposed bone of the femur and tibia to induce a healing response.
The next tissue to give way was his rotator cuff and the labrum in his left shoulder. We repaired each tissue as an outpatient arthroscopic procedure in 2010. Dave returned the day after surgery to initiate a shoulder range-of-motion program, followed by a strengthening program at six weeks.
By 2011—at age 62, after 40 years of knee pain—his right knee x-ray showed bone-on-bone arthritis in all three major compartments of the joint. His range of motion was severely limited. Dave walked with a limp but continued to try to ski and play tennis at a high level.
To resurface his knee, we planned a custom cutting jig, using the aid of a computer design based on a CT scan of the knee joint. This was the state of the art in 2011, shortly before surgical robots had been perfected. Dave's newly resurfaced knee restored his motion, straightened his leg, and removed his pain. On day one after surgery, he started the StoneFit training program. This involved a commitment of two hours a day—using our physical therapy team for an hour to regain motion and our fitness team for an hour to build strength daily.
Dave reported that the 2011-12 ski season was his best in 30 years, with more than 40 days on snow without knee or shoulder pain.
Between 2012 and 2015, however, he developed various muscle, back, and joint pains. He was given the diagnosis of polymyalgia rheumatica and treated successfully with low dose Prednisone.
A year later, while heliskiing, this unstoppable athlete developed significant pain in his left knee and left hip. The X-rays showed bone-on-bone disease in the medial side of his left knee and cystic changes with significant joint space narrowing in his hip. Using MAKO robotic technology, a medial partial knee replacement was performed after the ski season. His partial knee replacement had a variable course, with skiing tolerated more than 50 days a year but intermittent painful symptoms around the knee.
Unfortunately, Dave's hip arthritis worsened. Injections of biologic therapies provided considerable relief—at least until the arthritis progressed to bone-on-bone changes. He then underwent an anterior approach right hip replacement, followed immediately by range-of-motion and strengthening exercises. This led to a successful golf and ski season for 2019-2020, shortened only by the pandemic.
Today, with reconstructed knees and hips, and an optimized diet and rehabilitation program, Dave is setting his sights on getting a new left hip—and 30 more years of golf and skiing.  
Dave notes that his successes in athletics and life have been guided by several essential observations:
Athletic success—if you're not a gifted athlete—comes from understanding that nothing is gained without hard work and a tolerance for pain.
Dave expects great things of himself. Many athletes limit their success by not having those expectations. Modest success comes easy, but the All-American athlete level of success is hard.
Dave remembers his losses more than his victories and uses them as a tool to become more grateful, gracious, and humble.
One thing we have learned from all of these patients is that bionic replacement parts work best with more exercise rather than less—as long as they're smart exercises. Muscle strength and resistance exercise protect joints and build bone, while a sedentary life leads to atrophy and osteoporosis. 
Dave is wise enough to pick the powder days—and to ski the groomers during the sweetest hours of early morning snow, ending the day with an early afternoon lunch. The intensity that brought him sports and business success is now tempered by the wisdom of aging. Dave has learned—as has his surgical and rehabilitation team—that slow is smooth, and smooth is fast. Both equally true on the ski hill, golf course, and playground of life.