Go Slow to Go Fast
I used to find a lot of time in every second. Rapid thinking, multi-tasking, and impatience all supposedly led to productivity. And stress. Now I go slow to go fast—and I am trying to go slower.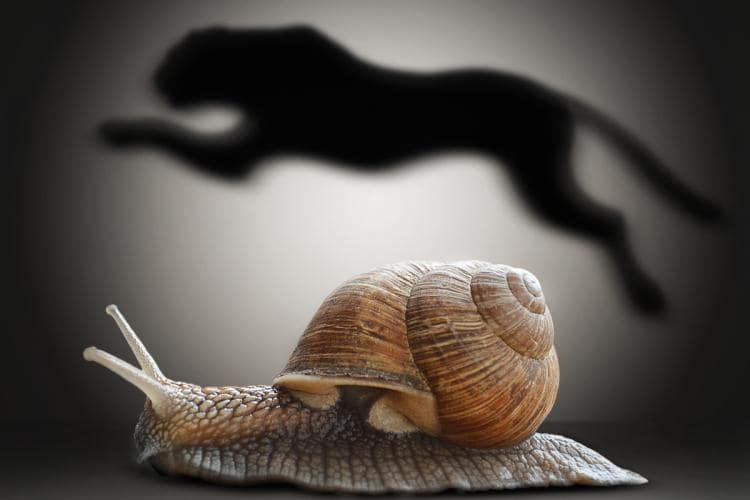 Here is what has happened. Going fast mentally meant speaking rapidly, acting quickly, and rolling over facts and people. It sure seemed effective and necessary. There is just so much to do and to get done, and so many seemingly ridiculous barriers to success, that skirting around many of them, or creating instant solutions and acting on them, seemed like the clear path.
With perspective and hard to acknowledge older age, it becomes clear that going slowly works better, in every dimension. So while I may still think rapidly, I now try to think more deeply as well. I try to see each problem from many angles, and not just jump to the obvious solution. This adds color to the process, civility to my words, and avoids a host of mistakes and injured feelings. Remarkably, the solutions I now pursue lead to more rapid results than my laser-like decisions ever did.
Nowhere is this more clear than in surgery. While shortening surgical time and making each move both efficient and elegant has always been attractive to me, coming up with more creative solutions to ever more challenging problems is far more satisfying. The outcomes for the patients are still superb, but the reduction in errors and my ability to solve really hard problems attracts patients with complicated problems to my doorstep. Even the more common injuries become more interesting when approached more slowly. Suddenly I see patterns and possibilities, where before I saw a simple tear and a strong repair.
The disease of arthritis is the best example of this more considered approach. Arthritis was thought to be inevitable if you had it in your family, or if you suffered a major joint trauma. Then it became common after lesser injuries, such as a torn meniscus tissue or a ruptured ACL. Today 54 million Americans suffer from arthritis, costing $81 billion per year.
Surgeons contributed to this disease as often as they tried to solve the problems for the patients. When confronted with a torn meniscus in the knee joint, surgeons were quick to remove the tissue and move on.
But removing the meniscus cartilage (or portions of it) for patients with injured knees led to arthritis in the knee joint in 60% of 605,000 meniscectomies in the US each year. It was a simple solution that worked well for those patients—until it didn't.
When we look at these torn tissues now we have multiple ways to repair, regenerate, or replace them, preventing the onset of arthritis in many cases. I believe we are on the verge of being able to cure the disease by repairing, re-growing, and replacing all the injured tissues in the joint. But this cure is not quite here yet. It takes going slow, carefully restoring all the parts, and understanding the patient's unique presentation, the genomic patterns that might affect their proclivity to respond to various treatments, their physical activities that may induce more damage, and their nutrition, which could also affect their inflammatory states.
During surgery, it takes time to find ways to induce a new blood supply to difficult-to-heal tissues, to use a new suturing technique to secure complex tears, or novel techniques to sew in a collagen regeneration template to regrow missing tissue.
In sum, the entire picture of the person with the injury plays into our path toward curing a disease that we previously thought was incurable. Only by seeing our patients not as "the knee in Room 3," but as a person with injuries that, if fully addressed, might be restored to better than they were before they were hurt, can we truly cure them.  This requires going slow, thinking of all the dimensions of their presentation, and then being deeply creative in their treatment. Surprisingly, this is even less stressful than speeding toward a solution. Go slow to go fast.