Five Wetsuit Weeks
A good play week from April to October in San Francisco is when I have changed into a wetsuit five times.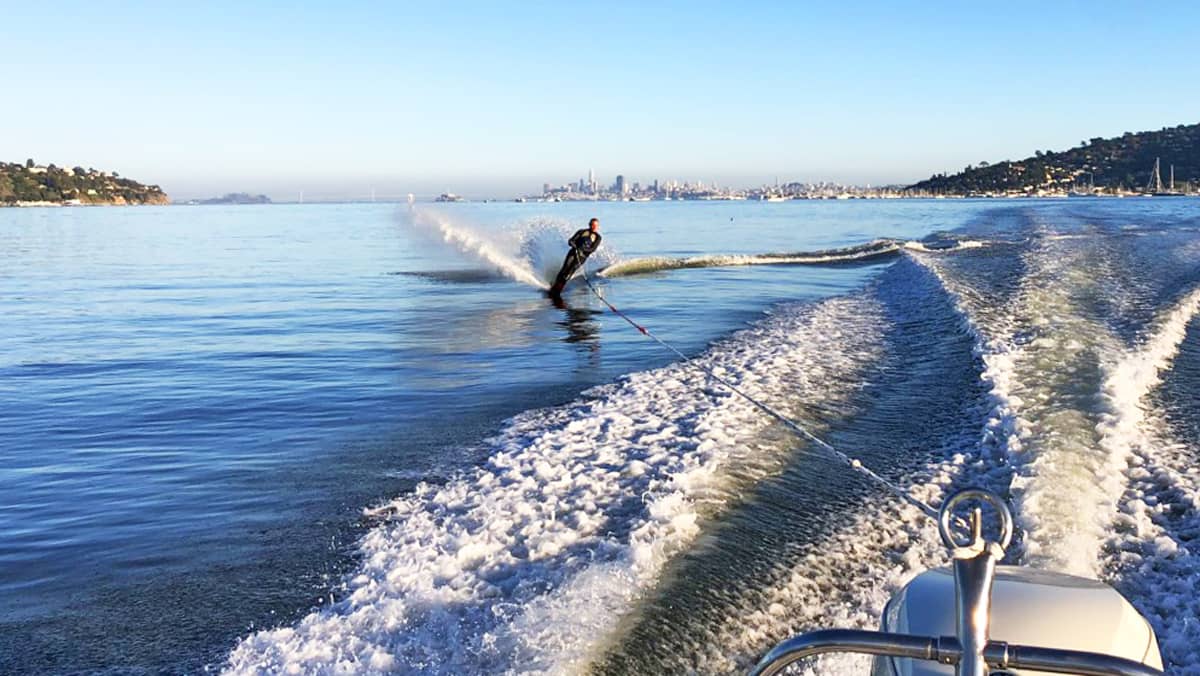 Dr. Stone waterskiing on the San Francisco Bay  
---
I work as an orthopaedic surgeon, seeing patients from 10-5 pm, two days a week. One or two days a week I operate. I also direct the public non-profit Stone Research Foundation, with programs across the US and Europe. My work life is busy, so my play life must be super well organized.
My home is on the side of Mt Tamalpais in Mill Valley California. I work in San Francisco; my office overlooks San Francisco Bay. My winter sports include mountain and road biking, skiing in the mountains of the west, and riding an ElliptiGO in the hills of Marin County.  
The most fun, though, starts in the spring. San Francisco Bay has quiet, windless mornings, with afternoon thermals that blow at 15 to 30 knots from May until October. This provides all kinds of opportunities for water sports. Here is my preferred lineup:
For me, spring-to-fall weekend mornings are opportunities for stand-up paddling on the ocean at Stinson Beach, and riding small waves at Bolinas—a channel break friendly to late-in-life surfers. The afternoons are best for biking and riding an ElliptiGO in the hills.
Mondays, after a bike ride to work from Stinson to San Francisco—if the wind is blowing—windsurfing at Crissy Field is defined as heaven. The Golden Gate Bridge looms at the mouth of the Bay. The tide rushes in or out at up to six knots, making the wind critical for both sailing and returning back to the beach. Any breakage of gear leaves you drifting, fast, out toward the ocean or in towards Alcatraz. Over the past 30 years, I have broken every piece of windsurf gear and been rescued by passing sailors, tug boats, and the Coast Guard more often than I would like to admit.
My Tuesday's surgeries start early. But if the cases are completed in time, and the wind is blowing, a second windsurf session of the week is possible. If there is no wind, and the water is flat in Sausalito, luring my wife or one of my two doctor daughters to the motorboat for waterskiing is the next choice. If they are booked, the eFoil is close at hand. I can eFoil alone on the Bay, gliding in and out among the boats.
Wednesday mornings, if no surgical cases are booked, can begin with the eFoil or a waterski if a partner is available. Afterward, I may take the motor boat (a 22' Boston Whaler) across the Bay from Marin to my office at the edge of the San Francisco Marina. If the afternoon winds pick up, an afternoon windsurf is possible.
Thursday is a repeat of Monday. Friday is a full research day—with options in the early morning and evening for a wetsuit sport. If none present themselves due to the weather or no wind, a bike ride from San Francisco to Stinson Beach starts the weekend off.
At least five wetsuit events are my definition of a great play week. What's yours?