Z-Lig™ approved! We're pushing the boundaries of orthopedics.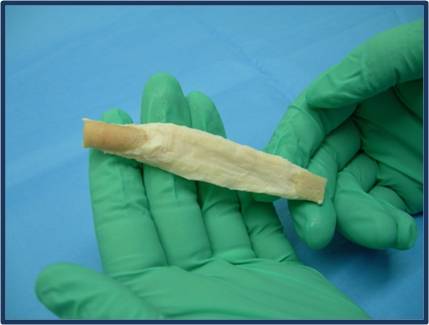 We are thrilled to report that the Z-Lig™ ACLR Device, invented by Kevin R. Stone, M.D. and subsequently developed by Aperion Biologics, was cleared for marketing and distribution in the European Union and other markets which recognize the CE Mark.
The Z-Lig is an engineered porcine tendon that has been "humanized" to allow the tissue to be turned into an off-the-shelf scaffold device that can be used by surgeons to replace a ruptured anterior cruciate ligament (ACL) in the knee. 
In being granted Europe's CE Mark, the Z-Lig is the only non-human biologic device for revision and multiligament ACL knee reconstruction to be approved anywhere in the world.
The Z-Lig provides a revolutionary new option for patients. According to market research reports, an estimated 600,000 ACL reconstruction surgeries are performed globally, using either a patient's own tissue (autografts) or cadaver tissue (allografts). The problem with using a patient's own tissue, such as the hamstring or the patellar tendon, is that it weakens the knee and leaves the patient prone to osteoarthritis. Historically, there is a chronic shortage of ideal cadaveric donor tissue.
Early stage development and pilot trials of the Z-Lig were conducted by The Stone Clinic, which now has patients with Z-Lig devices 10 years after implantation. More recently, Aperion conducted a prospective, randomized, controlled clinical trial in Europe and South Africa to compare the Z-Lig to donor tissue. The clinical results demonstrated biological acceptance of the device, immediate and continued re-establishment of function and stability in the knee and gradual remodeling of the device into human tissue over time.
The successful clinical trial proves that it is possible to substitute animal tissue for human tissue in ligament reconstruction surgery. Up until now, animal tissue, when transplanted into humans, has been plagued with problems such as rejection and inferior performance in demanding applications such as knee reconstruction procedures. Attempts in the past to cross-link animal tissue in a chemical solution have failed. The cross-linked tendons worked for a limited time and then failed due to their mechanical properties, inability to remodel, and the patient's reaction due to the chemicals leaching from the tissue graft into the knee joint.
Aperion's Z-Process™ technique is able to strip the animal tissue of the key rejection antigen (a specific carbohydrate on the cells and extracellular matrix called the alpha-galactosyl epitope) without damaging the tissue's biological or mechanical characteristics, creating a scaffold which remodels over time into the patient's own human ligament.
The Z-Process could be applicable to a variety of tissues and indications, from orthopedic ligaments, bone and meniscus to cardiovascular heart valves and vessels to soft tissue grafts for general surgical augmentation and repair.

Watch a Z-lig in action 10+ years after implantation.
In 2002, Canadian Pro Skier Rick Lewon had his right ACL reconstructed by Dr. Kevin Stone, www.stoneclinic.com - using donor porcine tissue. Dr. Stone's treatment was a medical breakthrough and the first non-human biologic method for ACL reconstruction of the knee. After this surgery, Lewon went on to win numerous Canadian Downhill Masters titles.