BioSpineFit Program
The Stone Clinic in San Francisco, California, is at the forefront of sports medicine and regenerative injection therapy. We have 30 years' experience pioneering and refining minimally-invasive surgical and biologic treatments for sports injuries and arthritis. Our mission is to keep athletes active for life. 
With Robert Savala, MD, joining our clinical care team, The Stone Clinic now provides the same cutting-edge, interventional care for the spine with our BioSpineFit program. 
What is the BioSpineFit Program?
The BioSpineFit Program grew from the recognition that back pain and its related disabilities have a variety of causes and potential cures. Traditional care, however, has focused on rest, narcotics, and steroid injections that often end up leading to surgical interventions. Many people suffer for years either from the disease or the treatments.
Rather than masking symptoms with narcotics or weakening tissues with degenerative therapies, we deploy techniques that focus on tissue regeneration and muscle strengthening. Using an integrated biologic approach that incorporates targeted injections with fitness and nutrition, we alleviate pain and achieve long-lasting outcomes that help to avoid the need for spine surgery.
Regenerative Injection Therapy
Pain originating from the structures around the spinal cord is most commonly due to inflammation ignited by degenerative discs and facet joint irritations. Many of the traditional solutions, such as cortisone, injected into these areas reduce inflammation and symptoms. However, they also potentially weaken the surrounding tissues, diminish the body's immune response, and fail to resolve the underlying issues of degradation. 
Alternatively, the biologic injections administered by Dr. Savala focus on stimulating injured tissues to heal and have documented efficacy for improving painful symptoms. The concentrations of critical growth factors in these injections may help to promote the benefits below: 
Increasing tissue healing response
Diminishing tissue degradation 
Reducing inflammation
Increasing joint lubrication 
Recruiting self-repair cells to the site of injury
Preventive Care Integrative Rehab & Fitness
No injection alone is ever enough. We combine every injection with rehabilitation and fitness. Our world-class rehab team is onsite and will be with you every step of your recovery. Our team will work with you to create a customized fitness program designed to help you become better than you were before you were injured. Together, we will help you return to the activities you love—Fitter, Faster, and Stronger® than you've been in years. 
Meet Dr. Savala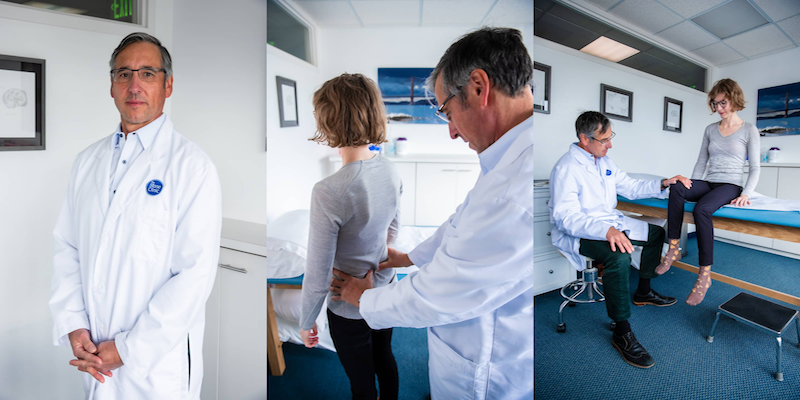 Robert Savala, MD, is an Anesthesiologist and Interventional Pain Management Specialist and the head of our BioSpineFit program at The Stone Clinic.
With decades of experience in spinal diagnostics and spinal injections, he is uniquely qualified to lead this program. His treatment focuses on the whole person, combining successful pain management strategies (targeted injections, rehabilitation, full-body fitness, judicious use of medications, nutrition, etc) to heal, protect, and continually strengthen the tissues of your spine.