Why We Row
Rowers are a distinct breed. Whether they start out that way or develop as they progress, their special qualities are recognized by colleges, graduate schools, and employers— who actively recruit rowers. Why is this?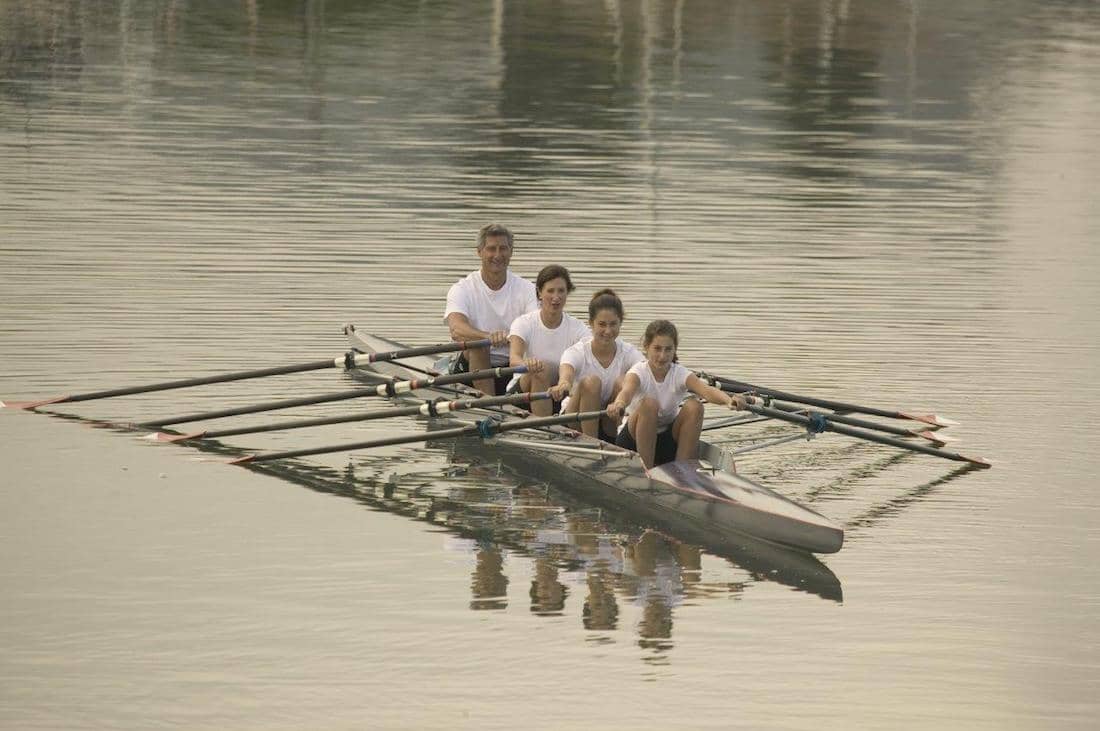 Rowing, as the sport of crew, started in the late 1700s. The first recorded competition took place in 1828 between Oxford and Cambridge. The sport now has about 25,000 participants rowing single shells, doubles, fours, and eights—plus an estimated 11 million people using rowing machines in clubs, gyms, and homes.
Rowers are athletes who have learned how to push themselves, mentally and physically, beyond anyone's expectations. Mentally, they have bumped up against the fear of pain, the fear of failure, and the fear of letting their teammates down so often that they now know pain, failure, and regret intimately—and can control them. 
Let's take a closer look.
The pain comes from pushing oneself so hard physically that with each stroke the body teeters on the edge of breakdown, yet responds with muscle building. This pain is encountered on a dastardly device called the erg, which awaits the rower's application of full force and effort, measuring the output. The pain continues on the water. There, stroke rates are elevated to breathless maximal force, while at the same time perfect balance, rhythm, and timing are required so as not to upset the boat. The momentary feeling of exhilaration—when the boat is perfectly set up, leaping through the water with each stroke, and crushing the competition—magically wipes the pain away and convinces the rower that it is all worth it. Remarkably, this pain-to-greatness cycle usually takes place without spectators, with no monetary reward, and results in only very local glory.
Failure occurs on a regular basis. Internally, the rower must believe they gave it their all, knowing all the same that there might be a little more left somewhere in the tank. The failure to beat last week's erg time, this week's competition for your seat in the boat, and (potentially) next week's rival loom overhead. The failure to meet the coach's expectations and your teammates' hopes also percolate in the back of your mind—not to mention your own glorious visions of rowing dominance. The failure of your own body to withstand the injuries, overcome back strain, and recover fast enough for the next day's race can seem insurmountable.
And then there is regret: regret for not pulling hard enough, for not rising above the forces of agony and doubt, for not sleeping enough to be your best. But regret is simply not acceptable. Regret, you are taught, is for losers.
So why row? 
We row to defeat all these challenges. We row to prove to ourselves, more than to anyone else, that we have the right stuff. We row to bury life's troubles and revel in the comradery of shared effort and shared outcomes, both on the water and off. We row because we know that other rowers have followed this path. They have capitalized on their personal development, and have been highly valued by colleges, graduate schools, and employers—as we will be. Most of all, we row because—once we master rowing—we fully own our lives and our futures and can meet our pains, failures, and regrets with a rower's constitution. We row to win.
---
Note: The author rowed in high school (Moses Brown), in college (Harvard), and in adult life (Marin Rowing) and married a high school (South Kent), college (Holyoke) and adult rower (Marin Rowing). The disease appears to be hereditary; their two daughters also rowed in high school (Marin Rowing) and college (Harvard) and hope to return to rowing, possibly with their own children.