Regrowing your knee
How a meniscus implant can encourage the knee to self-heal.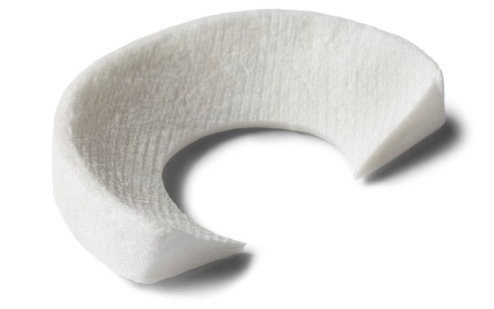 When people injure their meniscus, the fibrous shock absorber in their knee, the torn part is often removed. Sometimes it is sutured. Unfortunately, when tissue is removed, the force is concentrated on a narrow part of the joint and arthritis ensues.
Patients often ask me "Isn't there a shock absorber you can put back in my knee?" The answer is yes. A meniscus transplant uses donor tissue to replace a missing meniscus. But this approach relies on a supply of healthy, young donor tissue, which is not always easy to acquire, and a highly specialized surgical procedure.
Now, however, there is new approach to fixing torn and missing meniscus tissue, called the Collagen Meniscus Implant (CMI). The CMI is a biological device made of highly purified collagen, which is designed to promote a self-healing process by acting as a trellis for new meniscus tissue to grow into, reconstructing missing segments of the meniscus shape.

hB2A">Watch Dr. Stone explain how a collagen meniscus implant can help regrow the knee's shock absorber. 
In fact, the Collagen Meniscus Implant is not so new. I invented it in 1986. [1] It was the world's first orthopedic tissue regeneration template and it was tested extensively in animals and people, and found to be safe and effective. A private company ultimately developed the device and conducted further trials, gaining Europe's CE mark of approval in 2000. It has been available in Europe ever since, with over 4000 procedures performed. It was briefly available in the USA (2008 - 2010) but a dispute with the FDA has meant that the implant has been off the market for almost 5 years. This dispute has just been resolved and the CMI is once again available to people in the USA.
I don't benefit financially from the recent FDA decision, but it brings a smile to my face and warmth to my heart that good science can eventually prevail over politics, and devices that benefit patients eventually can be used by surgeons.
Here is why this is important to the more than 1.4 million people who tear their meniscus tissue each year.
In multiple studies [2,3,4,5] of patients who had a meniscectomy alone versus a meniscus reconstruction with the implant, the latter group did better. People who had previously had a resection of their meniscus and had continued pain also benefited. Whether or not the progression to arthritis is prevented has not yet been demonstrated but intuitively we understand that more tissue is better than less. In our practice, the Collagen Meniscus Implant was also used as a progenitor cell and growth factor carrier to augment difficult to repair meniscus tears.
The availability of the CMI is good news for people who badly tear their meniscus cartilage. Ideally, meniscus cartilage tears must be repaired and reconstructed when they are freshly diagnosed. The challenge now is to get surgeons to deploy and insurance companies to approve such tools not just for the patients with refractory pain but to also help patients avoid a problem that may not appear for a decade or more.
"Prosthetic Meniscus" US Patent # 4,880,429 Issued November 14,1989
"Development of a Prosthetic Meniscal Replacement." Stone KR, Rodkey WG, Webber RJ, McKinney L, Steadman JR. Knee Meniscus: Basic and Clinical Foundations. Mow, VC, ed. New York: Raven Press, 165-173, 1992.
"Meniscal Regeneration With a Co-polymeric Collagen Scaffold." Stone KR, Rodkey WG, Webber RJ, McKinney L, Steadman JR. The American Journal of Sports Medicine, Vol. 20, No. 2: 104-111, 1992.
Monllau JC, Gelber PE, Abat F, Pelfort X, Abad R, Hinarejos P, Tey M. Outcome After Partial Medial Meniscus Substitution With the Collagen Meniscal Implant at a Minimum of 10 Years' Follow-Up. Arthroscopy. 2011 Jul; 27(7):933-43. Epub 2011 May 31.
Zaffagnini S, Marcheggiani Muccioli GM, Lopomo N, Bruni D, Giordano G, Ravazzolo G, Molinari M, Marcacci M. Prospective Long-Term Outcomes of the Medial Collagen Meniscus Implant Versus Partial Medial Meniscectomy: A Minimum 10-Year Follow-Up Study. Am J Sports Med. 2011 Mai; 39(5):977-85. Epub 2011 Feb 4.