Bugs R Us - The human microbiome
If an alien landed and walked up to you, what would the alien think you are? Certainly not human. That's because of the 10 trillion cells that make up your body, only 1 trillion are human cells, while 9 trillion are microbes — and not just bacteria, viruses and fungi. Twenty percent of the DNA in your nose and 40-50 percent of the DNA in your gut code for something we don't yet recognize. Ninety percent of the DNA helix is still called dark or junk.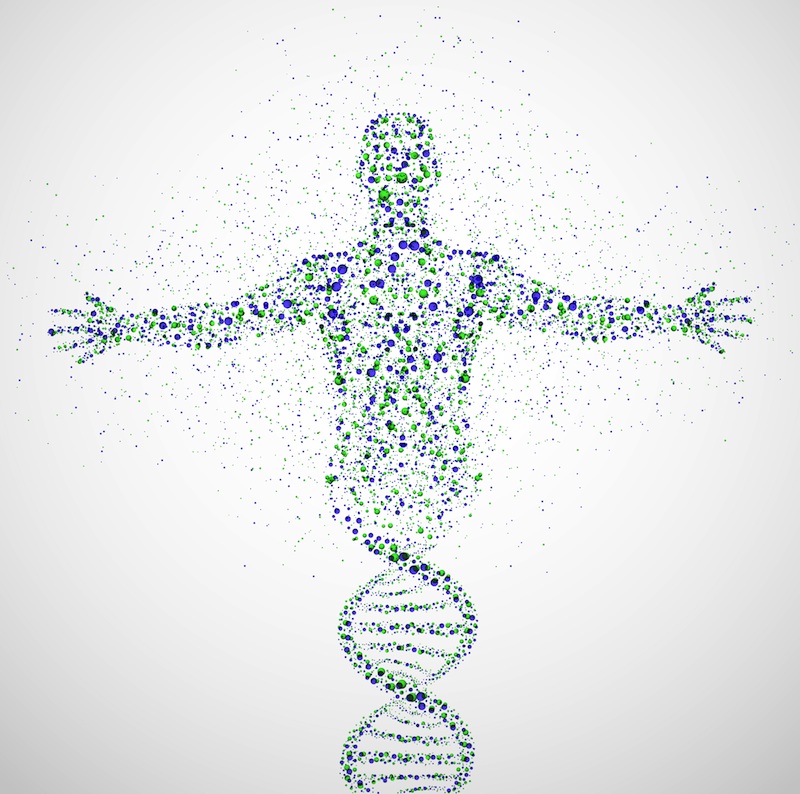 We have known about the presence of bacteria for hundreds of years. They were first proposed in the 1600s and confirmed by the microscope in the 1860s. Then we learned of viruses, which were discovered in the 1890s, and prions (small proteins that can transmit infection) in the 1960s, proven in 1982.
However, what we know about the microbes in our body is completely overshadowed by what we don't know. So what are the new organisms that all this unknown DNA codes for? Most likely organisms are responsible for many of the diseases we do not understand today. The junk DNA probably codes for some types of communication proteins, which could be responsible for passing a disease from one person to another.
For instance, many of the serious and chronic diseases we attribute to genetics may in fact be infectious. Why? Because if they were truly genetic, evolution would have filtered them out by now. These include osteoarthritis, cardiovascular diseases, Alzheimer's, many cancers, autoimmune diseases and others. The infectious agents that may be causing these diseases have not yet been identified, but the patterns are suggestive. Why do some types of breast cancer run in families? They live together! Same for osteoarthritis — my mother had bad knees! Isn't it likely that the environment you lived in exposed you to the same infectious agents that caused the familial diseases?
Microbes are making a big splash in many new cures. An infection with an organism called C. difficile causes severe diarrhea and is treated with huge amounts of antibiotics, often with little success. Think about an antibiotic for a minute. If you are made up of 9 trillion microbes and only 1 trillion human cells, an antibiotic is like a nuclear bomb going off inside your body, killing the microbes it targets and causing huge amounts of collateral damage to the other beneficial microbes you are made of.
However, it was discovered that if you take the stool from the healthy family members of a person suffering from C. Difficile and turned it into a concentrated pill form and transplant it into the gut of the sick person, the normal bacteria and microbes in the stool overwhelm the C. difficile and colonize the gut with normal microbes, curing the person in a single treatment. A European study, published earlier year in the New England Journal of Medicine, found fecal transplants cured 15 of 16 people with recurring C. difficile, compared to a less than 30 percent cure rate for drug therapy. This treatment may well soon be extended to multiple gut diseases such as Crohn's disease, irritable bowel syndrome, ulcerative colitis and other bowel diseases.
Most recently, gut microbes were linked to rheumatoid arthritis. This so-called autoimmune disease is a chronic inflammatory disease that destroys cartilage and leaves people with swollen and painful joints. In a recent study, 75 percent of people with this inflammatory arthritis had the bacterium Prevotella capri in their gut compared to 21 percent in the control group. Unique Prevotella genes correlated with rheumatoid arthritis. The future of treatment of these chronic diseases may lie in vaccines that prevent the onset of the disease by preventing the growth of certain microbes. We live in biologic world, with biologic causes of many problems. Fortunately, we may have biologic cures at hand.
So pardon the alien if it thinks you are a bug.