The Robots are Here
Total knee replacement has been a godsend for many people with severe bone-on-bone arthritis. Many of my patients are skiing, hiking, and playing sports on replaced knees at levels they have not done in years, or even decades.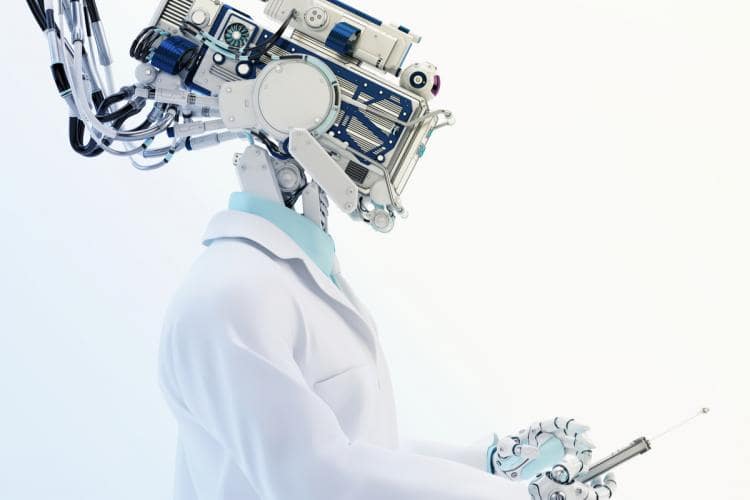 So why am I holding my breath? Because no matter how accurate I was in placing the new knees, I was limited by the accuracy of the saws and manual guides that were available to me. Even slight inaccuracies lead to abnormal wear and early failure.
No matter how well I cemented in the components of the new knees, I was limited by the survival of the cement. Over time, the cement inevitably breaks down. So the cement-bone interface was the weak link, especially for my patients who wanted to return to a high level of athletic performance.
And no matter how well-designed the implants might have been, the inability to manipulate the implants virtually—on a model of the knee—meant that the ligaments often stretched out over time. Almost all of the total knee replacements I examine, whether or not I performed them myself, show ligamentous laxity or looseness of the knee after 10 years.
Finally, and worst of all, the data from around the world states that 50% of patients with total knee replacements have pain at 10 years. This becomes a potentially unsolvable problem.
So in march the robots. Unlike the computer-generated, custom knee implants and cutting guides that have become popular over the last 10 years, the surgical robot provides a real-time solution for several of the problems we have just identified.
The planning of each individual case now occurs on a CT model of the knee, before surgery even starts. The implants are placed and adjusted virtually to optimize their position, to remove as little bone as possible, and to precisely match each patient's anatomy.
During surgery, the exposure is minimized and the knee ligaments balanced by rotating the knee and measuring its motions on a computer screen. The cuts are made by driving the saw with a robotic arm. The robot's haptic controls will not permit the saw to vary even slightly from the precise pre-planned cuts. This merging of pre-surgery planning and actual ligament tension is what makes robotic surgery so superior to navigated guides and saws.
Because of this increase in accuracy, cement is often no longer needed. The new implants have bony in-growth patterns on their undersides that, when perfectly matched to the bone, will permit solid fixation of bone to metal without cement.
While the long-term results are still pending, my robotic total knees will likely show the same positive outcomes as my robotic partial knee replacements—with a return to sports an important goal for many of my patients, and pain relief a required goal for all.
While I am still biased toward replacing injured knee tissues biologically, with new meniscus cartilage and paste grafted articular cartilage, those patients with true bone-on-bone, worn out knees now have a potentially longer-term bionic option. The 'bots are here.
---
Here's how Dr. Stone performs knee replacement surgery at The Robotic Joint Center
Learn how recent advancements in TKR robotic-assisted surgery technology give Dr. Stone unparalleled accuracy in placing knee replacement implants, allowing for a quicker recovery time, better range of motion, less pain medication, and greater durability for demanding activities.