How to heal like Kobe Bryant
The news that Kobe Bryant has "shattered" the timetable for recovery from his Achilles tendon repair is no doubt heartening for Los Angeles Lakers fans.
Speaking in China, Kobe told NBA.com "Three-and-a-half months [and] I can already walk just fine, I'm lifting weights with the Achilles just fine and that's different. So we don't know what that timetable is going to be. It's kind of new territory for us all."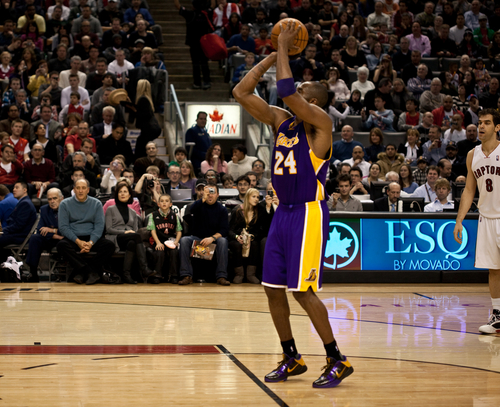 This fast-forward recovery is also inspiring to orthopedic surgeons. There is something incredible about witnessing a professional athlete work their way back from a catastrophic injury, the way Bryant appears to be doing. When he ruptured his Achilles on April 12 against the Warriors, his spirit was clearly broken.
"Maybe I should break out the rocking chair and reminisce on the career that was," he vented on his Facebook page. "Maybe this is how my book ends. Maybe Father Time has defeated me."
Kobe's despair that first weekend was understandable. An Achilles tendon rupture is a devastating injury, requiring many months of rehabilitation. However, it didn't take long for this despair to turn to determination. We see this in many of our athletes, especially the pros. They are down, then something clicks and their focus switches to recovery. They don't ever lose sight of this.
As surgeons, we learn the most from our athlete patients who push the limits. They teach us what is possible and often destroy the "traditional thinking" about tissue healing. They bring their focus, dedication and professional mind-set to the job of healing.
This is why I encourage each of my patients to think of themselves as "an athlete in training" and not "a patient in rehab." It makes a difference, even if, unlike Kobe, they are not able to make recovery a full-time job.
Our job as physicians and surgeons is to continually improve the care we give. The most common approach to an Achilles rupture is to open up the wound, unfortunately losing the valuable cells and growth factors that the body has produced around the injury site to begin the repair process. It also creates a large scar.
At The Stone Clinic, we have learned that the less you disturb the healing tissues, the better and faster they heal. In the case of Achilles tendon ruptures, even nonsuperathletes can heal rapidly if the surgeon leaves the healing clot intact, keeps the tendon sheath (the layer of membrane around a tendon) closed and pulls the frayed, mop-endlike rupture together without opening the skin.
With our biologic approach, we treat the rupture with a percutaneous technique, which is suture repair through small holes in the skin. This way, we reduce scarring and risk of infection and most importantly, we take advantage of the body's own natural ability to heal itself. In the weeks following the procedure, we speed up the healing process still further by adding an injection of the patient's own blood-derived growth factors, which promote tissue regeneration.
Regardless of the procedure, the strength of the healing tissue varies according to the health and strength of the patient. Whether or not Kobe's tendon has healed strongly enough to bear NBA-level stress is unknown until tested. He has said he hopes to be back on court by November or December. He'll be evaluated near the end of August, after which the Lakers will have a better idea of his return date.
In the meantime, we celebrate Bryant and his doctors' courage to test the limits and we urge anybody who is hurt not to compromise or settle into a rocking chair as Kobe first thought he might have to but to push to become fitter, faster and stronger than they were before they were injured.
First published in SF Examiner